Note: I have traded Shaneeda in for this 2005 Newmar Dutch Star diesel pusher.
Shaneeda is my 1994 Fleetwood Pace Arrow 33X motorhome.  I have taken quite a shine to her and she has treated me well. She has a Chevrolet P30 chassis and 454 cid engine.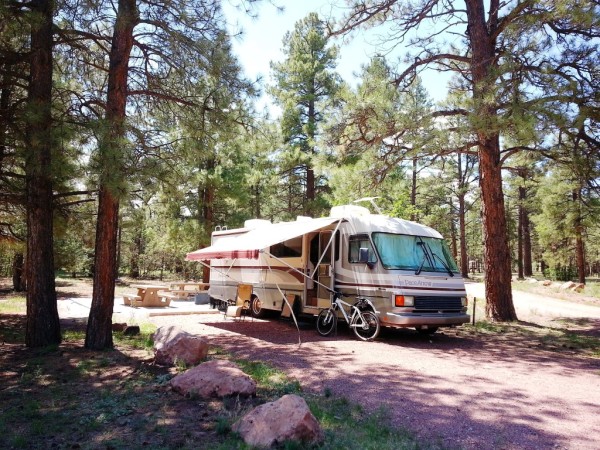 Naming her was difficult for the first several months, and then, it became obvious because she needa new tires, she needa new battery, she needa new brakes, she needa lota tender loving care! 🙂
We are not exactly world travelers yet but we're working on it.  Our goal is just to get comfortable (both living and working), see the nearby sights (there are MANY), and tune systems until all are working as desired.  We've had a great time boon-docking in some spectacular place in New Mexico – always near very good mountain biking areas. We've even stayed at some campgrounds.
The following list will continue to grow. So far, the many projects have included.
A very, very thorough cleaning – very dirty. Under/behind cabinets, flooring, basement, etc…  Detailed dash.
Sewed new Velcro onto privacy curtains
Replace many broken drawer slider brackets and adjust others for proper drawer alignment
Replace sink drain seal
Replace generator fuel line
Clean shore power chord
Hose plug for pressure water inlet
Tighten nearly all cabinet pulls and hinges
Stove – rotate two of three burner lighting tubes from pilot (probably never worked)
Fixed magnetic door latches (covered with glue, poor alignment)
Relocated lav cabinet door latch to close correctly
Scrubbed toilet flapper/seal. Lubricated to obtain seal
Installed drawer and cabinet liners
Replaced wrong/oversize/sheetrock screw hardware with appropriate hardware
Restrung several window shades (broken strings)
Replace missing screws in front privacy curtain rails
Remove dash cover (filthy), remove glue, clean.
Repair separating basement doors
Contact cemented kitchen floor where split/sticking up
Contact cemented ceiling liner where falling
Replaced Charger/Converter (Series 900, Model 950-2, 50 Amp) with PROGRESSIVE DYNAMICS PD9260C 60 AMP. (old unit would not come out available openings and had to disassemble and break cover into pieces to get it out. )
Replaced missing drain hole covers in basement floor (two).
Repair loose body panel.
Tie-wrapped loose wiring under hood.
Installed 12V socket in bedroom
Replaced all indoor lights with LED's.
Replace broken awning handle/lever.
Replace two window awning straps.
Replaced Front Tires
Front Brakes. Did myself. Turned rotors. New Pads. Easy. Seems to have fixed column vibration (yay!).
Installed rubber hose feet on house water pump. Quieted it significantly.
Install 1200 Watt Inverter inline with older 100 Watt unit (use one or the other)
Increased roll-up tension on large awning
Increased roll-up tension on small passenger side awning
Purchased 2′ x 3′ rubber stall pad and cut into 8″ x 12″ squares for leveling pads
Scrubbed exterior with Bar Keepers Friend – eliminated oxidation
Polished with Zep Floor Polish
Replaced rivets on rear/dual hub air extension lines – loose and rubbing on wheel
Replace faulty 12V socket fuse holder in overhead with new inline fuse holder
Replace Shower Head Holder
Replace Shower Head
Install Cobra 400 Watt Inverter in place of old 100 watt inverter
Dicor Seal Roof
Install LED TV and DVD player
Clean roof vents
Rebuild kitchen faucet internals to fix drip
Found broken heater switch on aft thermostat. Front thermostat heater switch does nothing. Temporarily replace rear thermostat with functional but heater-only unit
Replace rear roof vent weather-stripping
Replace bathroom fan blade – old was crumbling from UV damage
Replace 8R-19.5 rear tires with Samson 245-70R-19.5 tires
Levelers just started working after a couple trips (yay!)
Replace missing porch light cover  – bought entire assembly
Removed valve stem extensions (braided steel line style). Flat tires stopped – no more leaks
Adjust steering box to eliminate sloppy steering. Required 210-240 degree adjustment
Replace broken shore power bezel
Mr. Buddy propane/LPG heater and 20 pound cylinder
Sewed new curtains for kitchen and bathroom windows
Toilet overhaul – new seals, bushings, and a serious cleaning
Remove bedroom TV and cabinet
Replace double sided tape under loose body molding trim
Install rubber bumpers between roof and TV antenna
Install shelving in one bedroom closet
Install pull handle on sliding shelf/cabinet
Repaired (another) basement door, face panel loose
Reapply Zep exterior polish
Fine tune tire pressure (big improvement in ride quality)
Install HDMI cable from front entertainment center to bedroom.
Installed 22″ Samsung LED tv in front.
Installed new Samsung HDMI DVD player.
Installed HDMI splitter/switch (3×2).
Moved Spectre LED tv to bedroom.
Installed sound deflector on bottom of Spectre TV.
Sewed insulated covers for ceiling vents. Held in place with lexan sheet. Winter use only.
Plug AC units with folded towels (retain heat at night and when cold). Winter use only.
Rebuild shower water faucet.
Remove old linoleum and carpet flooring.
Install new carpet in bedroom.
New recliner
Some of our trips:
2013 San Mateo Mountains – Datil, NM (June)
2013 Cibola National Forest – Gallup, NM (August)
2013 Cibola National Forest – Gallup, NM (September)
2013 Rockhound State Park – Deming, NM (December)
2013 City of Rocks State Park – Silver City, NM (December)
2014 Elephant Butte State Park – Monticello Point (February)
2014 Elephant Butte State Park – Monticello Point (March)
2014 Bluewater Lake State Park – Prewitt, NM (April)
2014 Cibola National Forest – Gallup, NM (April)
2014 Oasis State Park – Portales, NM
2014 Lubbock, TX (June)
2014 Bluewater Lake State Park – Prewitt, NM (August)
2014 Oliver Lee State Park – Alamogordo, NM (November)
(Visited 714 times, 1 visits today)