I've been trying to find a fresh water leak in my motorhome (Shaneeda) for several months now. It has been barely noticeable if don't leave the water pump running (which I don't).  One day during my recent Elephant Butte Lake trip, I opened a basement door and found an inch of water sitting in it.  Surprise!!   So, I got serious about finding the leak.
One of the things that had thrown me off was the motorhome not sitting level.  The hydraulic levelers were not working so imperfect was what I got.  This caused the water to appear (drips) from different places.  I searched those places for the leak but found nothing. In all cases, it was on the driver's side.
This week, the levelers were working and the water pool was in a new location. This time on the passenger side.  This led to poking around in some locations that I had not previously checked.

It took some doing but finally traced it down. As one might expect, the previous owner had "attempted" to "fix" the leak but failed miserably.  I wish people would be honest when selling things instead of trying hide little things like this.  It would not have changed my mind about purchasing or altered the price but at least I would have known and could have fixed it long ago.  Ugh…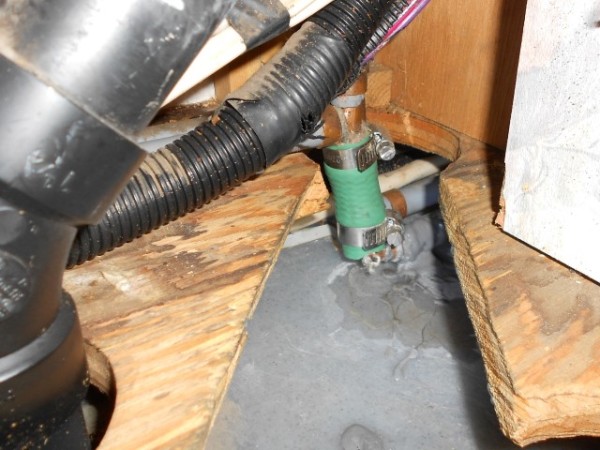 This area is not easy to reach but that is far better than impossible so I'll get it fixed.  I may have to rent a kid with long arms and small hands though.
Note from JD: The fix is here.
(Visited 36 times, 1 visits today)