It seems that there is constant chatter on the RV forums about the "ideal" motorhome or the "best" motorhome. Some folks talk about floorplan, some discuss gas versus diesel, others focus on cost.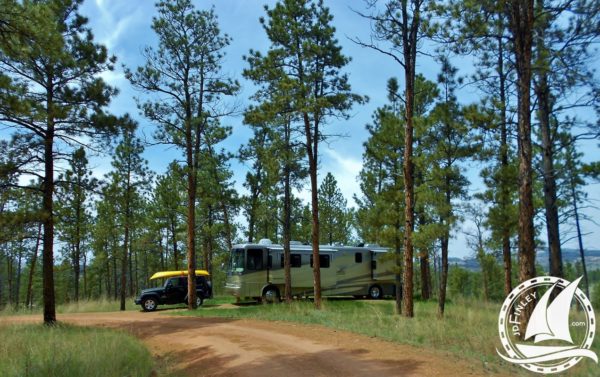 I really don't understand all this talk as it is very simple to me.
The best motorhome, in my opinion, is defined by the following very simple set of criteria:
Has 

no edges/slides/cabinets/doors on which you might bash your head or back (interior and exterior)

Has 

a bug repellent front-end/windshield- never needs cleaned.
Has a 20 year, 400,000 miles bumper to bumper warranty that is never needed
Has a built-in, out of the way, vented, and easy to get at cabinet for cat litter box
Travels safely and reliably at 75 mph and 19 mpg
Four wheel drive and high clearance for those really great campsites up in the mountains
Height of 6′ or less to avoid trees and branches while getting into those really great campsites
Corners like a Ferrari
Rides like a Bentley
Stops like a Formula 1 car
7′ Ceilings
800 square feet of living area
Self-cleaning – inside and out
10,000 lb cargo carrying capacity
3000 watts solar. Panels automatically tilt and aim at the sun.
2000 amp hour battery bank
Completely silent generator capable of running all loads and burns a quarter-gallon of fuel per hour.
250 gallon fresh water tank
200 gallon black water tank
200 gallon grey water tank
Fantastic insulation – stays cool on hot summer day and warm during cool winter nights
Huge basement with 4′ inside height, side swinging doors, and rolling trays
Uses inexpensive tires (no more than $100/each) that never wear out or need replaced due to age
New price of around $100,000 and used prices around $40,000
Does not depreciate
Dozens of 2 amp or greater USB charging sockets located all over the entire RV – including one or two in the basement so you can plug your phone in whilst lounging outside at the campsite.
Dozens of 2 amp or greater cigarette lighter type charging sockets located all over the entire RV.
Able to cruise down very rough dirt/gravel washboard roads without feeling like it is going to shake the rig apart.
Sun shade "tent" that is very easily to deploy. Shades the entire RV from sun and helps maintain comfortable interior temperatures on hot summer days when there is no shade available. It has a couple of holes for the sun to come thru for the solar panels and automatically moves so that sun is always striking only the panels.
Has several wire conduits with numerous junction points that run end to end into which more wiring can easily be added.
Includes an onboard cell signal booster and crank up external antenna (30′ tall).
Includes an onboard Wifi signal booster and external antenna.
The entire coach is bluetooth connected.  I want to turn the furnace on from bed, start/stop inverter, tv, and satellite without having to get out of my chair. I want chicken wings to heat up by themselves and deliver themselves to me so I don't miss any of the game.
Automatic leveling jacks with 36″ square feet that do not sink in soft sand/soil.
See, a very simple list to define the ideal motorhome.
I'm not sure why this ideal motorhome is not currently being built but I sure wish the industry would get into gear!
(Visited 871 times, 1 visits today)