I've learned that occasionally, in the heat of the summer, some "powerful" window shades are necessary. With summer coming quickly, here is a little tip!
A little research uncovered the fact that many people are using "Reflectix" insulation.  This shiny, panel like stuff with the little air bubble padding type material in the middle. Ha – nice description!  In any case, it is available at home improvement stores in a 24″ height and rolls of varying length.
Conveniently, the windows in Shaneeda are about 24″ tall.  I purchased a medium size roll for about twenty-five dollars.  I then measured the width of the window openings on one side of the RV, and cut some pieces using regular scissors.
Surprisingly, this is an incredibly easy project with excellent results!
Why only one side?  Well, the sun rarely glares on both sides of the RV at the same time  – at least in my experience (thankfully).  One window required a slight variation – the window between the passenger window and house door.  It is taller than all the other windows BUT happens to be 24″ wide.  So, that piece of Reflectix goes in vertically instead of horizontally like all the others. In all cases, the reflex just sits inside the window "frame".  On the larger windows, lowing the curtain (with the Reflex between it and the window) helps to hold the Reflex in place.  Nothing else is required – very simple.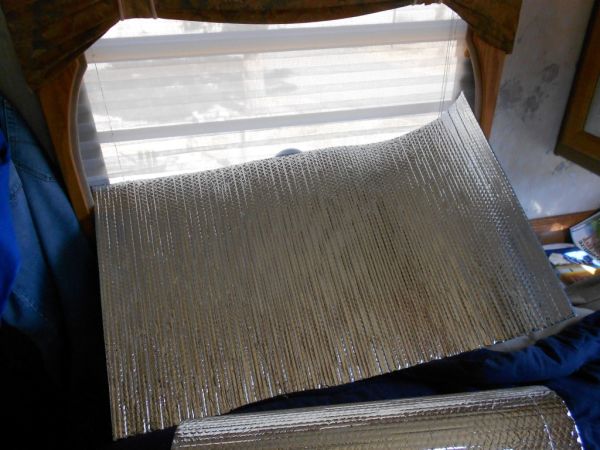 Does it work?
It certainly does. The amount of heat that is blocked is pretty amazing. Of course, it is dark but that's ok.
When not in use, I roll all the shades up together and store under my bed. While not miniscule, they do collapse to a reasonable size.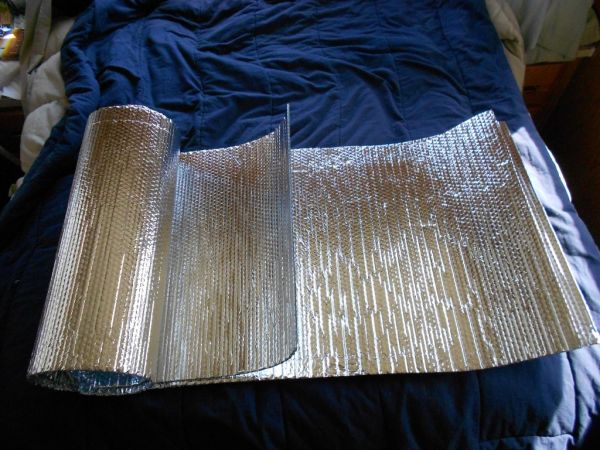 Now I wish I had something similar that would keep the cold out!