Sadly, there just isn't much going on right now so not much to post about.
I can tell you that having a broken arm really stinks.
I've been making frequent trips to the doctor so he can keep tabs on the healing process. He seems happy with progress so I am too.
All of the staples have been removed and I am now in a brace that allows some movement of the elbow.  The x-rays are always interesting – still plates and screws, guess that won't change.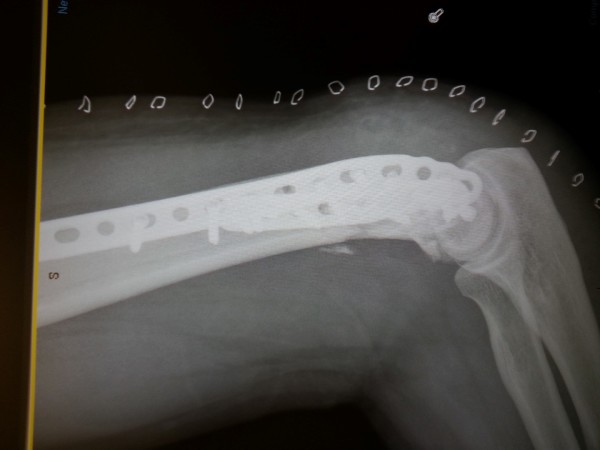 Physical therapy starts later this week.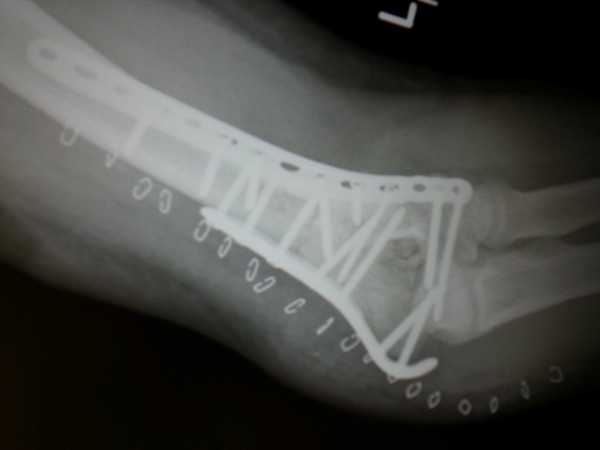 My friends and neighbors have been HUGELY helpful!  I had meals delivered for the first couple weeks after surgery – thank you so much!!  Several friends have made grocery store runs for me and have been shuttling me around to doctor appointments. Thank you – thank you – thank you!
Except for not being able to do any of my hobbies – flying, cycling, kayaking, etc… things are reasonably normal now. Work, read, sleep – and sleep a bit more. I do a lot of sleeping these days, except for when I am unable to sleep and then I just toss and turn.
My bikes stare at me all day long. They desperately want to get outdoors and run but I am unable.  I have very limited range of motion and nearly no tricep strength, never mind pain.  Cycling is simply not possible right now – I apologize my dear bikes.
The big slice is looking better. It will probably be a conversation piece for some time to come (this photo taken just before half of the staples came out).