I moved this past weekend from the Lake Meredith National Recreation Area north of Amarillo, Texas to Saint Clair, Missouri where I have family.
Driving my Dutch Star is so enjoyable!  I almost can't believe it.  It is a huge rig but it is so quiet, so stable, and so smooth that it is nearly no work.  Of course, the engine is nearly forty feet away so there just isn't any engine noise.  There is a bit of road noise and wind noise but it is a very low level.  The other really neat thing is on rolling terrain, the big diesel just chugs right up hills without making any additional noise or change in speed (using the cruise control).
Now, I do understand that my previous gas motorhome was twenty years old and much has changed since then but the difference between driving that rig and the Dutch Star is VERY pronounced. I had read many comments about the advantages of diesel pushers and I have to agree with this one – it is very comfortable and more relaxing than I had guessed it could be.
This weekend's drive was approximately 650 miles. I departed about noon on Saturday and arrived at my destination at noon on Sunday.  I took two sleep breaks – one in a truck stop and one at a rest area. Additionally I stopped once for fuel and once because I could not pass a Godfather's Pizza!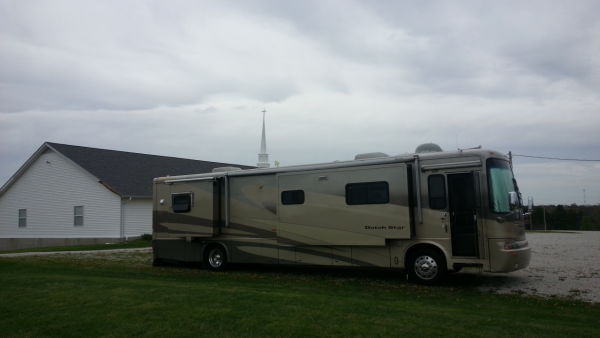 The only exciting event was nearly being hit by a tractor-trailer in a truck stop parking lot.  It was three in the morning and I was slowly driving straight down a "lane" when all of the sudden the semi appeared on my left and was rolling around the corner.  We must have spotted each other at about the same time as we both swerved and mashed on the brakes.  He would have T-boned me right at the front wheel so I suspect the damage would have been significant.  Thankfully, disaster was averted and I bet we will both be much more cautious driving thru dark parking lots in the future!  On a positive note, this truck stop was a fairly quiet place at 3:00 am with many open fueling lanes so a quick in and out is possible.
I am now setup in the parking lot of the Saint Clair Christian Church and am enjoying a beautiful spring time in Missouri with my family!