For those not familiar, a debate has been raging for years about whether a gas powered motorhome is better/worse than a diesel powered motorhome. The gas vs diesel debate. Some common statements one is likely to hear include:
We all know parts on diesels are higher cost than gas coaches.
Diesel coaches are more expensive to maintain.
Used diesel coaches are expensive to maintain.
Comparable coaches cost $xxx more for diesel than gas.
I think the debate is silly. But before getting into that, it is worth noting that all types of RV's (including Class A, Class B, Class C, trailers, etc…) will generally accomplish their intended purpose. Owners using their equipment beyond it's intended purpose/limitations often presents problems (overloading an RV, for example).
Here's why the gas versus diesel debate is silly, in my opinion:
First off, the debates I have heard on this topic fail to compare apples to oranges. They like to compare the maintenance costs of a $400,000 diesel coach to a $100,000 gas coach. They are not even in the same league – it's about like comparing the cost of maintaining a Ford Escort to a Porsche 911. Yes, they are both cars with one engine and four wheels but the similarity stops there.   The $100k gasser is likely to have a 18,000 to 22,000 lbs max capacity. The $400k diesel is likely to have 35,000 to 55,000 max capacity. That is TWICE the load carrying capacity, maybe triple depending on the coach. To think that one could do this with mechanical parts that are equal in cost is pretty silly. Some look at the engine output and think they are the same – they are not. The HP numbers may be similar (360 HP for a Ford 6.8L V10 versus 370 HP for a Cummins 8.9L ISL) but the torque is in a different world for the diesel (450 ft/lbs versus 1250 ft/lbs for the same two engines). That means the diesel is producing nearly THREE TIMES as much POWER. Do people think that parts for those two engines should cost the same? What about parts cost for the Ford Escort engine versus the Porsche 911 engine?
The systems of a typical diesel pusher are more complex and there are often more of them. This pretty simply translates into more maintenance, right?
Maybe.
Certainly the POTENTIAL for more maintenance exists but it doesn't automatically mean there will be more failures or the fix will be more expensive.
Why is this comparison done? I think it is because people think a motorhome is a motorhome is a motorhome. They want the big, sexy looking machine with all kinds of room and "status" but they want it in a package that is inexpensive to own and maintain. I'm not sure why people think this is possible. The same mistake does not seem to be often made with cars like – I'll buy a Ferrari FXX K instead of a Chevy Malibu and maybe the maintenance costs will be the same?? Nobody actually thinks that, do they??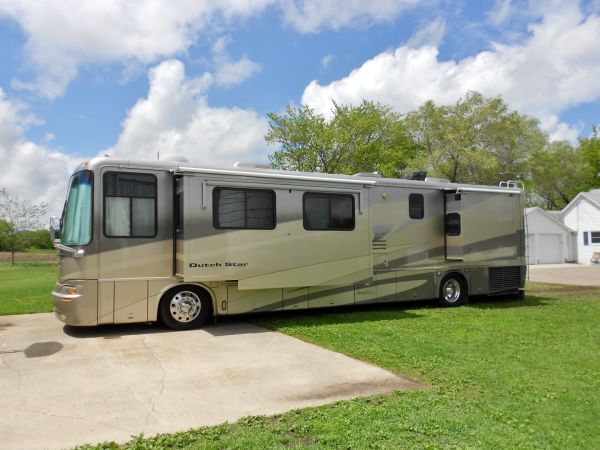 Our modern society has really gotten their needs confused with their wants and totally screwed up their checkbooks in the meantime. Is a motorhome a need or a want? In most cases, a want. I live in mine but in reality, all I really "need" is a sleeping bag, a tent, and backpack (arguably). That said, being able to carry all of my earthly possessions (and believe me, I whittled them down to nearly nothing) is required and that translates into the "need" to carry a good bit of weight. Weekend campers most certainly do not need to carry as much weight nor do most vacation/summer campers.
What might be an interesting comparison would be a $100,000 diesel coach to a $100,000 gas coach. As far as I am aware, this is not possible and it is for the same reason that a $10,000 Porsche 911 is not manufactured – it would no longer be a 911, it would be an Escort.
For those considering a purchase and are confused about what to get, I'd suggest an accurate analysis of how you intend to use the motorhome. This is not just frequency of use and distance traveled. It is also the weight and volume of stuff you plan to haul (bodies, toys, toad, clothes, junk, hobbies, etc…) and the mode you plan to "camp" (always full hookup versus weeks of boondocking). Weight is a very important factor. If you "need" to haul a lot of stuff (to include a trailer full of toys), a diesel may be your only "safe" option.
As an aside, I'm never exactly sure why people that ALWAYS have full hookups carry around humongous water tanks and huge battery banks – kinda wasteful, I think. On the flip-side, I rarely ever have a full hookup so rely heavily on those huge water tanks, battery bank, and solar panels.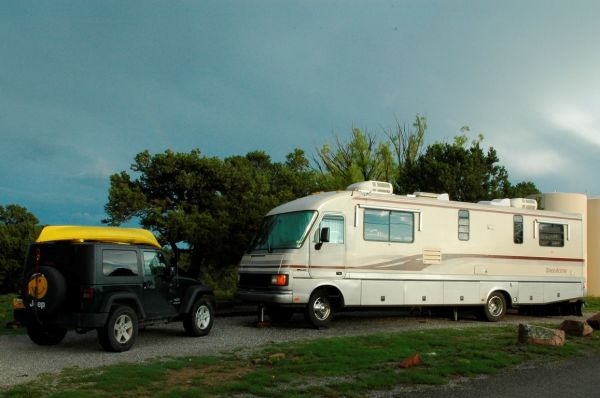 (Visited 1,063 times, 1 visits today)