Note from JD: This is part 3, part 1 is here, part 2 is here, and part 4 is here.
I purchased a Ready Brute Elite tow bar from N.S.A. RV Products for towing my 2010 Jeep Wrangler JK. The primary reason for this selection was the many positive review of the Ready Brake system.  It is very nice looking piece of equipment!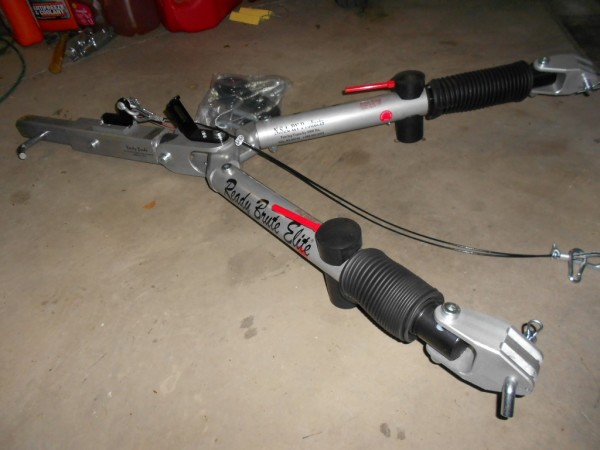 I have no idea where or when this type of auxiliary braking system originated but it sure it neat.  The concept is pretty simple, automatically apply the brakes of the vehicle being towed when the vehicle doing the towing slows.  The Ready Brake accomplishes this with two "pieces".  The first is a cable that is attached the brake pedal of the tow vehicle. The cable is run to the front bumper of the vehicle.  The second part is built into the tow bar.  It uses the "push" of the vehicle being towed to pull the cable previously mentioned.  My words probably fail to describe it – see the following animated image – courtesy of the Ready Brake web site.

The tow bar portion of this system is built into the tow bar so there is nothing to do there but make the purchase.  The brake pedal cable, however; must be installed.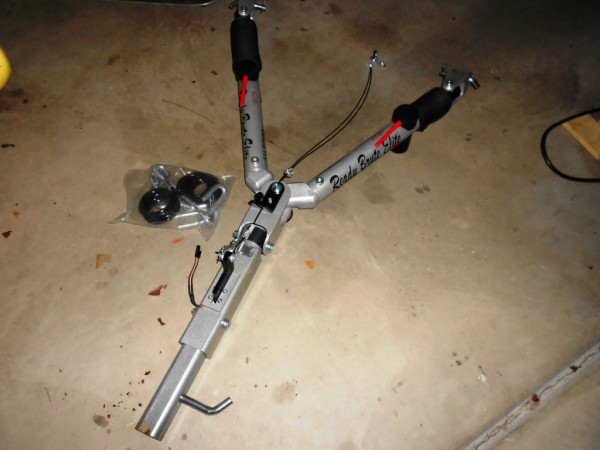 I fretted over this install for far too long.  I was nervous about drilling a hole in the Jeep firewall as well as running the cable thru the engine compartment.  Both concerns were a complete waste of time.  Fitting a drill between the clutch and brake pedals is a small challenge but once there, the drill zips thru in no time.  Pressing the clutch pedal down is very helpful. On my Jeep, a heat shield exists that is made of some relatively thin aluminum.  I needed to trim the hole to a larger size allowing the washer and nut to pass thru which I did with some wire snippers.
Finding a place to mount the end of the cable housing at the front of the vehicle required some head scratching.  Some base plates come with a fitting, mind did not.  Some people drill a hole thru the bumper, I really didn't like that approach.  It took some time but I finally realized that the cable housing itself is not under any stress. So, mounting it with a hose clamp (as listed as being ok in the instructions) makes perfect sense.  That's what I did.
The cable mounts easily to the brake pedal using the supplied hardware.
It's kind neat to pull on the cable poking out the front of the vehicle and see the brake lights go on!
(Visited 741 times, 1 visits today)