Sadly, the wood finish on cabinets does not last forever. I know…  a major revelation that may make many of you quite sad.  Sorry. 🙂
This problem seems to be fairly prevalent in motorhomes in which the wood is exposed to more sun light.  Nearly all of the cabinets in my 1994 Pace Arrow were in fairly bad shape. Mostly chalky and faded from exposure to the sun.  Obviously, the still worked just fine, they just weren't very pretty.  The following is the before photo – please forgive the mess, lots of cleaning going on.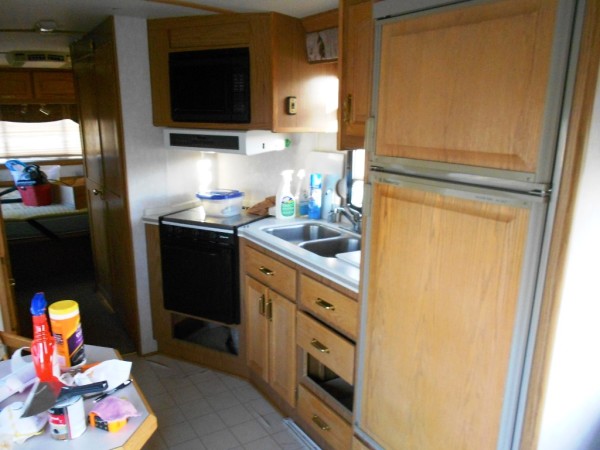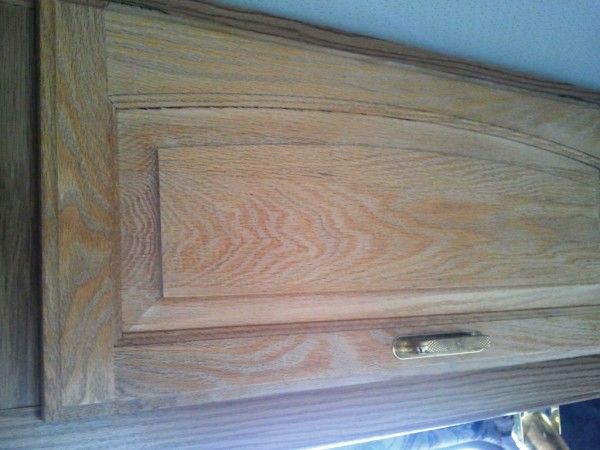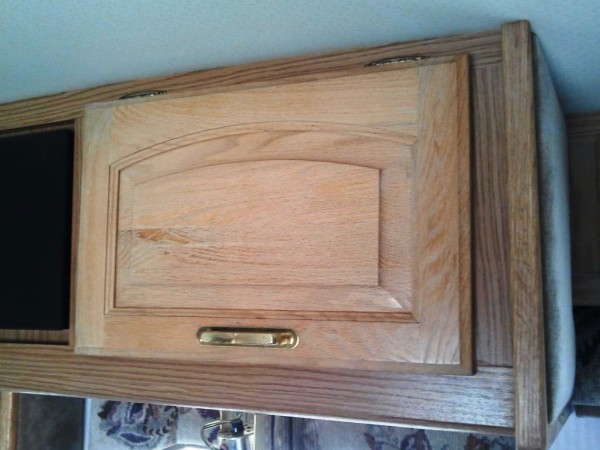 I was not looking for a major refinish project – the type where you have to remove all the cabinets, sand them down, etc…
I asked around on the RV forums and was directed to a couple of different products.  The one I ended up using is Restor-A-Finish from Howard.  I selected it primarily because it could be purchased locally (Home Depot, if memory serves).  It was about $20 for a small can.
As always, testing something like this somewhere were nobody will see the results is a good plan.  I was surprised by the immediate improvement but let it sit for a day to confirm the result. I was not disappointed.
I went to work giving all real wood inside the motorhome a treatment.  The process if very simple – wipe it on with a rag – that's it. What a difference it makes.  The wood finish on the cabinets sprang back to life and look very nice.
My photographs do a poor job showing the difference but I'll share them anyway.  This is the after photo.  The rich wood color and texture is back.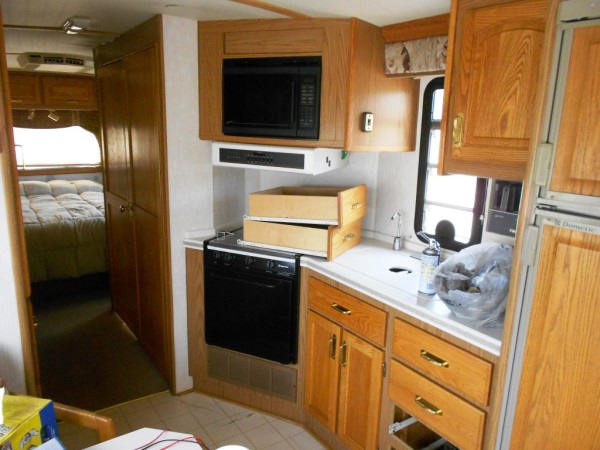 I am extremely pleased with the results. I used about three-quarters of the can so total cost was something around $15.00. Definitely worth the price!!
(Visited 111 times, 1 visits today)