I spent some time doing more much needed cleaning of my Hunter this weekend.
The fiberglass hull was oxidized and chalky. I tried a quick scrubbing with Starbrite boat wash & wax. It wasn't enough. I tried a bit more aggressive approach using vinegar and scrubbing compound followed by another was with the Starbrite.  This seemed to work much better. Far from a proper polish/buff but adequate for now.
My boat has an aluminum toe rail. The previous owner had added a wood "strip" to that rail. It looked reasonably good when I purchased the boat. After sitting in the sun for a year the varnish was peeling, it needed some work.  As I got to poking at it, I found that there was a fair amount of wood rot.  I removed a few sections of wood and quickly became apparent that I like the look of the boat without the wood.  Combined with the fact that wood seems to be such a high maintenance item for so many cruisers, the decision was simple. So, it came off the entire port side (dock finger side).  I scrubbed things up and really like the "new" look!  The following are the post-effort port and starboard side photos.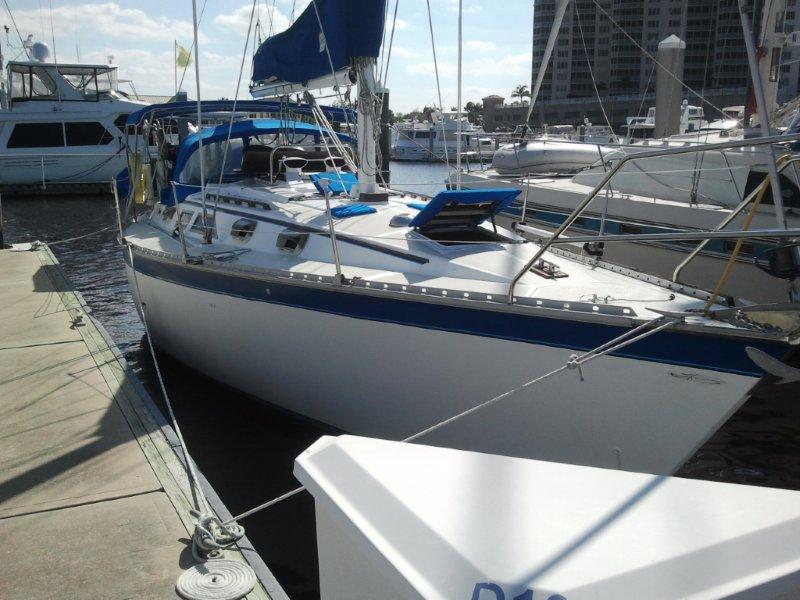 I started to install my bimini last week and quickly noticed how shot the stitching was. Rather than tear it up, I dropped it by The Loft for restitching.  This weekend I got around to installing it. That went smoothly except for one section of zipper which is failing.  If it isn't one thing it is another.
(Visited 128 times, 1 visits today)