A new era has begun!!  I am now an RV'er!
I've spent several years just sitting around the house. Yes, a few business trips and a few camping trips (mostly overnight trips). I decided that I needed something more. Don't get me wrong, I love my home and neighborhood. However; I wanted the ability to see some new places, to spend some time in nature, to find cool temps when hot and home, and to find warm temps when cold at home.
There are a bunch of motorhomes available for sale in Arizona. Thus; I decided to participate in the "2013 Arizona Loop Motorhome Search" – sadly, I was the only one.  I departed home after work on Thursday night and headed south. By bedtime, I was about thirty miles outside of Tucson, AZ.  I found a rest stop and spent the night in the back of my car.  The next morning I was at the first used RV dealership as he unlocked the gate.  By late afternoon, I had looked at several Class A motorhomes, driven a couple, and worked my way to north Phoenix.  Here I found my new home away from home. A 1994 Fleetwood Pace Arrow 33X Class A motorhome. Thirty-three feet should be plenty of space for one person! Ha!
Several of my friends suggested specific years, makes, models, features, etc… However; when you are buying used and as inexpensively as possible, you just have to take what is available.
My initial reaction was good.  The exterior looked to be in good shape but dirty.  The interior was extremely dirty!  I'm puzzled why people do not take better care of their things nor even run a vacuum cleaner when trying to sell something.  No matter, I find it easy to look beyond the surface issues. The unit seemed to be in good shape though I was not able to run as many of the accessories as I had planned.  I was told the generator was in good condition but would not start as the fuel level was too low.  There was a shake in the front-end/steering column. Several of the basement doors were coming loose from their frame.  The tires were old. I knew all of this could be a setup for major disappointment but I had a good feeling.  A deal was struck and within a few minutes, she was mine.
The first order of business was to get some fuel and a tow dolly from U-Haul to get my car home.  This fuel purchase was my first foray into the thirstiness of motorhomes!  I put in twenty gallons, just to get started, and the fuel gauge barely moved.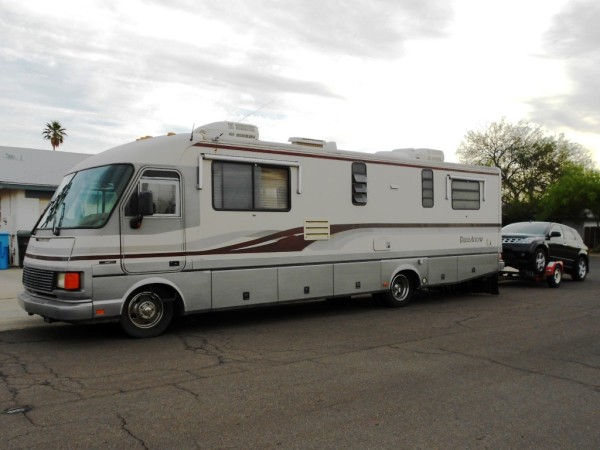 By this time it was getting dark so I called it a day, right in the previous owners driveway. He had left for a weekend trip and ok'd me staying there so no worries.
At the crack of dawn Saturday morning, I loaded my Murano on the tow dolly. That went ok though I learned that a Nissan Murano has pretty large tires and U-Haul tow dolly tire straps have a limited length!  Within a short time I was on the 101 headed out of Phoenix.  Interstate 17  leads north to Flagstaff. It is not the smoothest of roads and is a huge climb from 1000′ MSL to 7000′ – a challenge.  I was nervous and hoping that the new rig would not have cooling problems, power problems, brake problems, nor tire problems.
Interestingly, there are not many places to stop on I-17 just north or Phoenix.  I had hoped to travel ten or fifteen minutes before stopping to check everything over. That was not to be. I think I was at least 45 minutes into the trip before a good stop was found.  Of course, everything needed adjusted and tightened on the tow dolly but the rest of the rig didn't seem to be having any issues.
She handled it wonderfully – except for the rough road.  That front suspension clearly needs some work as it does NOT like the bumps.  The good news is that the early start paid off as the temperatures remained relatively cool and traffic wasn't too bad.
After turning eastbound on I-40 at Flagstaff, I found a place with average priced fuel and dumped in forty gallons. At least the fuel gauge moved this time!
The remainder of the trip went just fine and I had no mechanical problems – what a blessing!
I am thrilled to have a new project and have already started a whole bunch of little improvements!!
(Visited 147 times, 1 visits today)