Everything is supposed to be easy these days right?
It isn't. Apparently…
I am still no more a fan of television and the 24-hour stress, speculation, and rubbish programs.  However; having a bit of entertainment while living in the motorhome has become greatly desirable.  Sometimes I read for weeks at a time, other times, I just want to veg.  So…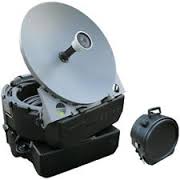 I purchased a Dish Network ViP211z receiver and a Winegard MP1 satellite dish antenna.  Getting it setup looked easy and the instructions made it sound easy.  It turned out to be a major undertaking.
I tried so many things so many times that I cannot even regurgitate it all at this point.  Suffice it to say that it took MANY tries to get this thing working.  Aiming the antenna isn't very hard. I think it was the receiver firmware that thru me off.  Once I finally found the "dish pointing" screen (thanks to the guys on the iRV2 forums), it kept wanting to search for satellites and change the transponder.  Not being familiar, I really didn't understand what it was doing, why it was wrong, or what it should be doing.
The bottom line for me; I set it on satellite 119, transponder 11, and repeated the "switch test" many times.  It finally locked on, downloaded software, and was ready to go.  After that and a fairly painless call to Dish Network, I had satellite television.
Since this initial setup, I've moved and re-aimed the antenna four times without any problems. So, I suspect the initial setup is difficult because of the learning curve and perhaps the receiver is a bit picky initially due to the need to download a software/firmware update.  The product certainly works just fine where I am located on the big blue ball.
(Visited 88 times, 1 visits today)