If you follow this blog, you'll already know that Shaneeda is no spring chicken (if you don't, check out this page to learn more about Shaneeda).  As such, she didn't exactly handle like a race car – or even a car.  Some handling improvements were in order.
There is a great deal of conversation regarding handling improvements in the motorhome world.  Obviously, there are differences among the chassis options.  Mine is Chevy chassis.
After replacing the front suspension air bags, I decided to next try the anti-sway bar bushings.  They were the original rubber units so far past their useful life.
I've used urethane bushings from Energy Suspension on other vehicles and have been impressed every time. They were available for the rear sway bar (but not the front) so I ordered a set.  The rear sway bar is 1.75″ diameter and the part number is 3.5148G.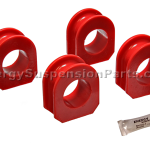 For some reason, urethane sway bar bushings are not available for the front. However; Moog sells a bushing (part K6476) that is hard plastic type material (versus a hard rubber).  The front bar is 1.25″ diameter.  This seems odd to a race car type of fellow as the larger anti-sway bar is usually located in the front.  I suppose it makes sense to switch it in an RV as the bar is working more to prevent the house swaying in wind gusts than to keep the vehicle locked to the road during high G maneuvers.
Replacement of both the front and rear bushings is very simple, partially because there are none of the typical rod end links that one may be familiar with. Two bolts for each bushing and four bushings per bar.  I plugged the impact wrench in and went to work.  To make things as easy as possible, I loosened all the bolts (but did not remove them) and then replaced one bushing at a time – as opposed to removing the entire bar from the vehicle.  They are pretty heavy and doing that single handed would have likely added a lot of work.  The whole job probably took 30 minutes.
The problem (there is always a problem) with such a quick project is that I nearly always forget to take photos!  Argh!  So, you'll have to use your imagination.
A short test drive revealed a very definite change for the good.  The entire motorhome felt much more "solid".  A few weeks after the install, a trip that involved several hours on the Interstate with a twenty-five mph wind provided the real test.  The difference was pronounced.  Shaneeda now sways much less in gusts of wind and when semi's zoom past.  I'm not sure why but bumps seem to be slightly damped, she doesn't seem to bottom on big bumps as often. This makes highway driving less work and more relaxing.
Shaneeda is still a big motorhome (not a race car) and I can imagine that new shocks will be the next upgrade. However; I am happy with the difference that the new bushings made.  The investment was pretty small, about eighty dollars and a little time.
(Visited 120 times, 1 visits today)