My 1994 Pace Arrow has three of the smaller fluorescent light fixtures. One is above the kitchen sink, two are larger units right on the centerline of the coach – kind of kitchen and living room – which seems to make them the primary lights for those areas.  Of these two units, one was not working at all.
My research to understand the efficiency of fluorescent tubes (fluorescent lamp – low pressure mercury-vapor gas-discharge lamp) has not been very fruitful.  It does indicate, however; that fluorescent tubes are not as efficient as LED lights.  So, being a DIY kinda guy, I decided to convert the fixtures to LED/SMD lights.
I steer away from the very expensive LED lights found in most retail stores and go to eBay instead.  I found a number of excellent options but I decided to use the SMD flat panels for this project.  This decision was based on what I thought would adapt most easily and work best in the fixtures that I had.  I purchased a box full of 48 SMD/LED panel lights of the 'warm white' variety.
The first thing I did was disassemble the fixture and remove the guts (all of the fluorescent tube pieces). This includes the little mounting pieces for the tubes themselves as well as the power supply and wiring.  All of these parts were riveted in place so all that was required was drilling out a few rivets. This left a very simple sheet aluminum fixture and two wires carrying DC voltage.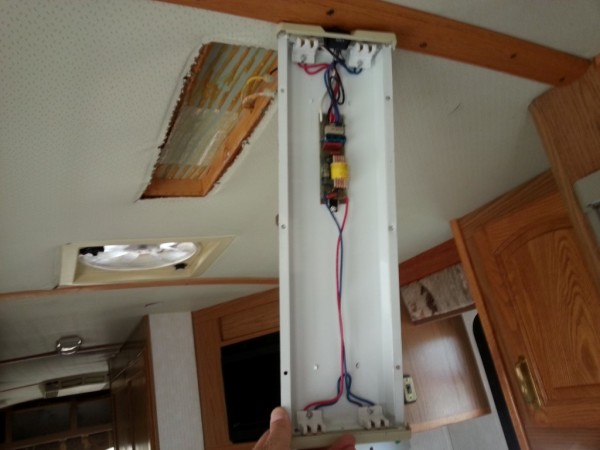 The three SMD/LED panels were wired together and to a single feed wire (for each leg of the DC circuit). The fixture already had a switch and I kept this in place by wiring the SMD/LED panels thru it.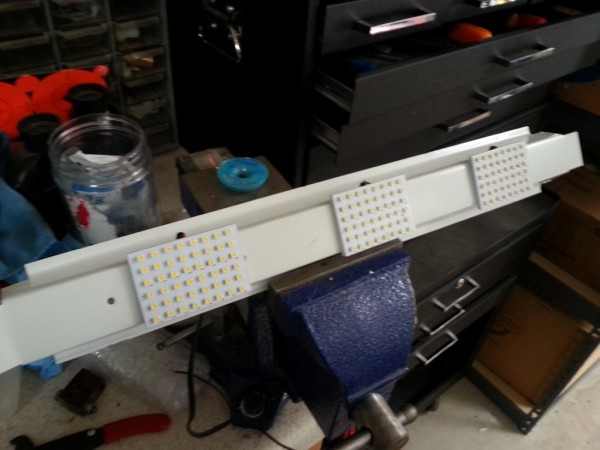 The SMD/LED panels come with a sticky backing tape and I used this to stick them to the light fixture.  Mounting can't get any easier than double sided tape!
That's about it – remount the fixture back in place and connect the wiring with fast-on connectors – a very simple project.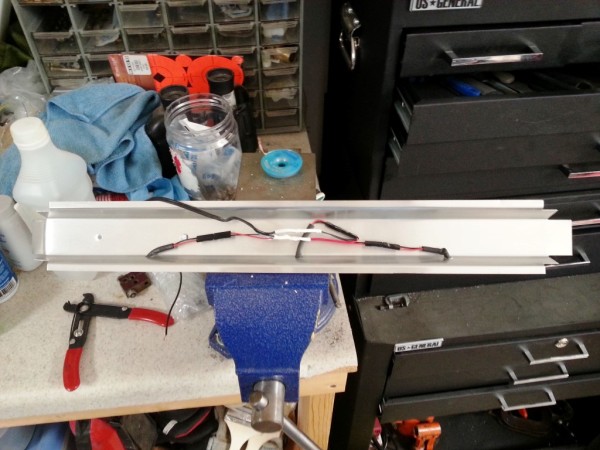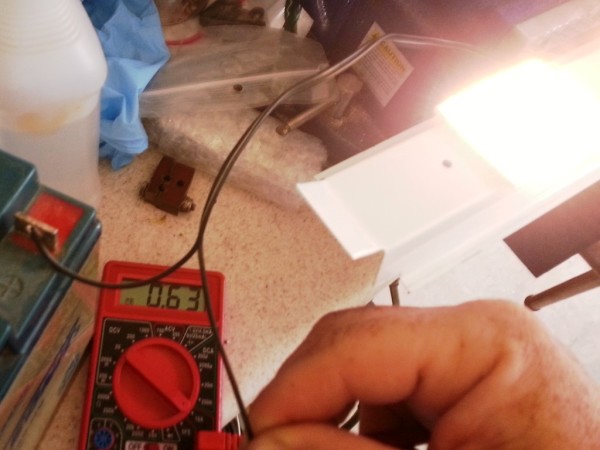 I'm happy with the conversion.  The entire fixture, all three SMD/LED panels, now draws six tenths of an amp (.6 amps) and produces a warm light that is plenty bright for my purposes.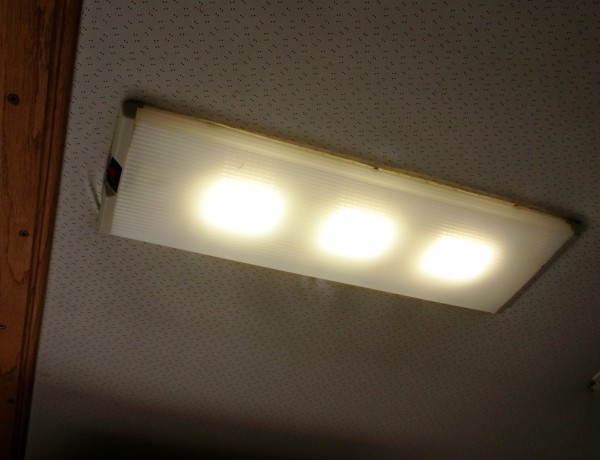 Note from JD: I am NOT one of the folks that likes to light up my motorhome like a jewelry store.  If you are, you probably should use a few more SMD/LED panels and the bright white variety if you take on a similar project.
UPDATE: I took the following photo at night while out camping.  I am pleased with the performance of this conversion. The SMD/LED light panels put out just about the right amount of light for me.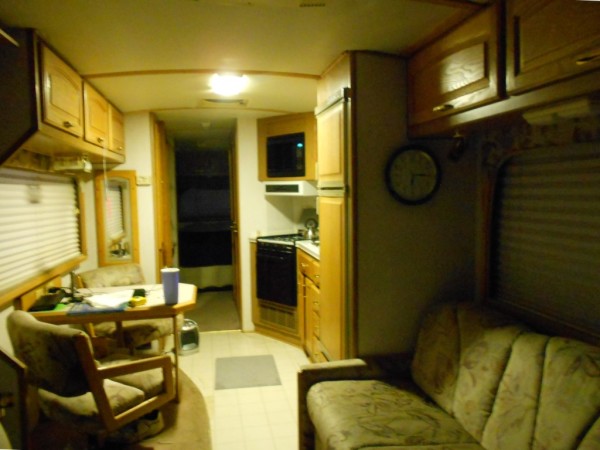 (Visited 680 times, 1 visits today)