It is time to upgrade the lighting on my boat to LED lights. The single biggest reason for this is to save energy. I have a reasonably sized battery bank and an 80-watt solar panel. This is far from "too much power" so conservation is a good thing.  I found some very inexpensive replacement LED lights on eBay (from China) and ordered a handful of them.  They arrived today and seem to be of reasonable quality (not that I'm qualified to judge this).
The light fixtures on the boat are a combination of Festoon bulb types and automotive "1156" bulb types. There are a huge variety of light bulb styles and fixtures so choose carefully to be sure to match what you need.
For the Festoon style bulbs, I ordered some "10 LED" type with older "style" round LED's and also some "16 SMD LED" types with the flat, square LED lights. These are called SMD or Surface Mount Diode.  Bench testing shows that both put out a lot of light but the SMD style is the brightest.  Note that the bottom bulb in the following photo is an incandescent bulb.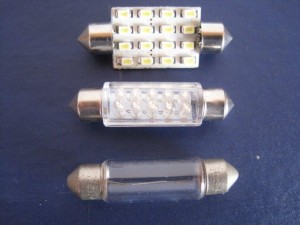 For the automotive "1156" style. I ordered some "9 LED" types. As previously noted, there are a bunch of varieties of these bulbs so ordering the correct type can be a challenge – it was for me at least! 🙂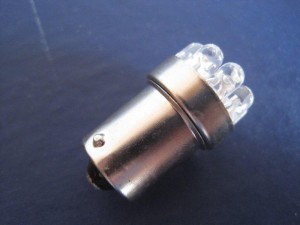 More posts on LED Lights:
(Visited 392 times, 1 visits today)