I really enjoy camping off the beaten path with my motorhome. "Off the beaten path" probably means something different to a New York City resident than it does to me, a kid raised on a ranch in Montana.  For me, off the beaten path is where there is nobody else for miles around, typically way up in the mountains – most certainly no human to be seen nor heard.  Sadly, I must work. Even sadder, I need an Internet connection to work.  Being in the middle of nowhere AND having an (affordable) Internet connection do not go hand in hand.
I've had a smartphone from T-Mobile for many years.  The data coverage here in New Mexico (and most of the western states) is lousy.  So, I switched to Verizon.  Wow!  What a huge difference.  However; get far enough from civilization and the signal goes away.  I needed some sort of signal booster or amplifier.
I started researching and found a number of possible options.  However; none were particularly cheap.

Ah yes… definitions!  "Cheap" = less than one hundred dollars.
The Wilson Sleek amplifier kept turning up in my research.  It looked like a joke.  I could not imagine how it would make any significant difference so I kept looking.  There seems to be a number of interesting possibilities in the $500 range – sometimes requiring a dedicated data plan.  That is too much for at the current time.  If I were living in the RV full time (and trying to work), I'd probably give them a shot.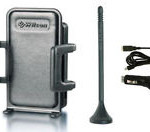 So, I returned to the Wilson amplifier option.  After reviewing many of the reviews on the Internet stating that it really does work, I took the plunge and ordered from Walmart.com.  This location had the best price and it was easy to return the item as I knew would be doing after it failed my test.  The item that I ordered is the Wilson Sleek 4G-V – now replaced by the weBoost Drive 4G-S.  There are a number of devices that will not support 4G so be careful and get the right product if you go this route.
Note from JD: Wilson Electronics has become weBoost with a new product line. If I were buying new today, I would get the weBoost Drive 4G-X product.
With the signal booster/amplifier in hand, I returned to a place south of Gallup, NM where I love to mountain bike.  The spot at which I setup camp was a little more than twenty miles from I-40 and the nearest civilization.  Not exactly the middle of nowhere but a reasonable start.  By itself, my phone had an extremely weak voice and data signal.  Some calls would go thru but were very bad quality.  A data connection was mostly non-existent but occasionally something would get thru, given enough time.
I stuck the Wilson Sleek antenna on the roof of my motorhome, plugged it into 12V power, and dropped my phone in place.  The signal indicator jumped to a reasonable 3 bars and 4G data.  Calls were normal and Internet access indicated that the 4G indicator was correct.  I tethered my laptop to my phone and the computer was pretty happy with the performance of the Internet.  Keep in mind that 4G Internet is far from what most of us have come to expect from work or business Internet connections.  I would certainly not attempt to stream or download movies or large files. However; it is bearable for browsing and email.
I ended up staying in this spot for a week, working the entire time. I am impressed with the Wilson Sleek – surprised even.  It does not work magic and provide a signal where none exists but if there is a signal, it definitely makes it more useable.
UPDATE: I recently spent a week at a location that had a spotty 4G signal on my phone – it would occasionally drop out.  Using the Sleek and the antenna just stood on the dash, the signal was a solid 4G.
(Visited 344 times, 1 visits today)