I do not have a television in my home.  I found that it sucks me in and wastes days at a time.  I seem to have a personality deficiency that requires me to find something worth watching once I flip it on.  Since there is nothing worth watching, I will spend eight to ten hours flipping thru the channels attempting to accomplish my goal.  I am unable to stop until I fall asleep.  It is a terrible problem that affects your health, mental state, friendships, and family. I'd bet that psychologists even have a name for it.  I solved it by getting rid of my TV a few years ago  – advertised it on Craigslist and it walked out the door a few hours later.  The solution has worked brilliantly and has the side benefit of massively reducing my stress level by NOT watching the "news" channels and all the craziness that is going on in the world.  I had initially thought I would do without a TV in my motorhome as well.  However; I have learned that I do need something to do while camping for days at a time – particularly when completely isolated.  So, I have succumbed to the attraction…
Like most older motorhomes, my RV had two very small and power hungry tube-type 13″ televisions.  They work ok but the power hungry problem had to be addressed.

Research showed that the modern LED TV's consume very little power and produce excellent images.  I decided to replace my living room TV with an LED TV.  Based on the space available, I selected the cheapest 19″ LED TV I could find.
The Sceptre E195BV-SHD 19″ 720p LED HDTV was just a smidge over $100 at Walmart (online) so I placed my order.
This LED TV has all the typical inputs plus HDMI, SVGA, and USB inputs allowing it to be also be used as a computer monitor and to show images/movies from a USB memory stick (I'm told, haven't tried this yet).  I thought all of these features were pretty neat for such a low cost.
When the TV arrived, I was very pleased to see that the power converter was external to the TV. This means that the TV had a 12 volt DC input.  I quickly found the right size plug in my junk drawer and powered the TV on directly from my DC house battery!  VERY NEAT!!!  A power inverter was not required and this saves even more juice!
Getting the old TV out was no problem.  Remove four screws to release the wood face and two screws on the TV bottom plate; she nearly falls out at that point.
Mounting the new TV required some head scratching though!
It is somewhat interesting that one can spend MORE cash on the mount than for the TV itself!
I ended up with a fully articulating mount from WalMart that is probably overkill for the small size of the LED TV but hopefully it will hold up to the vibration and bouncing around that it will experience while we are cruising down the highway. An additional desire was to be able to use the huge volume of space vacated by the old TV – behind the new LED TV.  The articulating mount allows me to easily access that space.  I spotted a blog somewhere that showed people using this space for bulky paper products – paper towels and toilet paper, mostly.  Seems like a very good plan to me.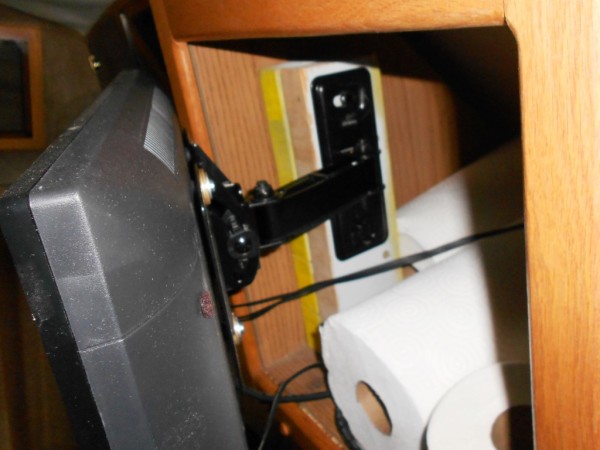 Using long wood/sheetrock screws, I attached two lengths of 2×4 to a solid structure inside the old cabinet for spacing purposes and attached the new LED TV mount to them.  The pivot points on the mount were snugged down and now the TV seems very solid and holds its position quite well. However; this has not yet been tested on the road.  I think a safety strap will be added for peace of mind.  The new TV is not very heavy but I'd rather not have it come crashing down on my head whilst traveling at Interstate speed.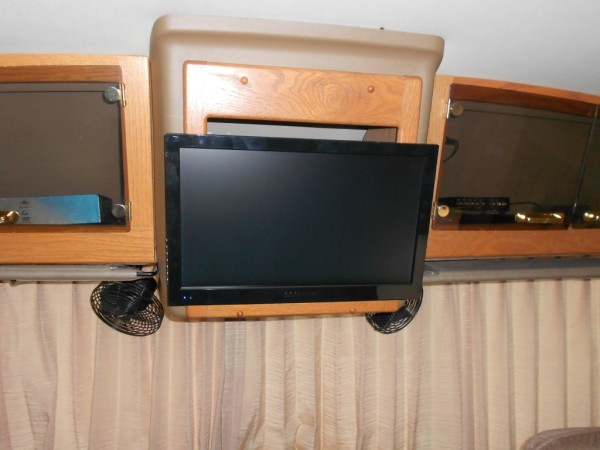 (Visited 409 times, 1 visits today)