I am super pleased to report that I have done a bit of upgrading over the last few weeks.  I am now the proud owner of a 2005 Newmar Dutch Star (DSDP 4023)!  Shaneeda was great old girl and I had a lot of fun with her. She taught me a tremendous amount and kept me occupied which was incredibly important during that phase of my life.
This Dutch Star is pretty amazing.  The space that opens up when the slides are open is something else – massive!  Cruising down the highway at 65 mph is surreal!  The noise is nearly nonexistent and the ride is very smooth. It feels incredibly odd.  The big diesel just chugs right up hills. With the cruise control set, it barely changes it's tempo – no downshifting and roaring up the tiniest of lumps in the road.  The space in the basement isn't quite like a bus but there is certainly more of it than Shaneeda had.  Even has a couple big, heavy duty slide out "drawer" type things.  Very neat!  Of course, it is a very complicated machine.  There are all sorts of electrical systems – I have much to learn!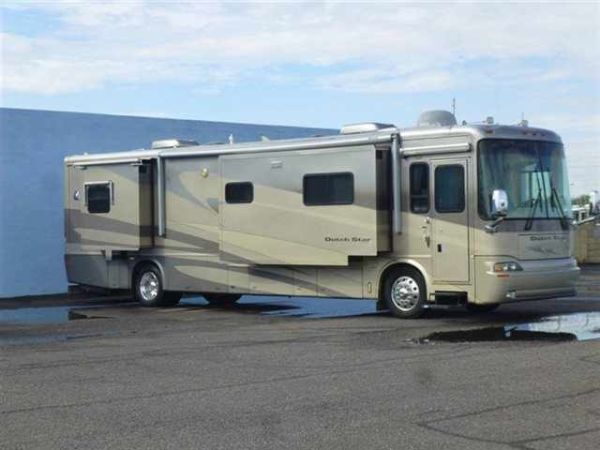 You might be asking what am I going to do now that I no longer have my "project machine"??  Well…. Fear not – there is no a shortage of tasks to be performed.  I kept the solar panels and charge controller from Shaneeda so I have those to install.  I have come to realize that I am a clean freak.  There are MANY cleaning opportunities so will be spending lots of time on that.
I am an advocate for older RV's, some will ask why I changed.  I haven't, actually.  However; for my use, I decided something more was needed… ok, desired.  Shaneeda was not well insulated (or insulated at all??) and her windows leaked a lot of cold air.  This made winter/cold weather camping difficult and hot weather camping uncomfortable.  With shore power (or generator), the air conditioners kept the inside at a comfortable temperature but at a huge noise cost.  The other biggie was weight.  Shaneeda had a 16,000 lb chassis.  With my typical camping stuff, we were maxed out.  To live in her full time would require adding several thousand pounds more junk (my belongings).  I knew this would be hard on her mechanically and possibly even dangerous.  It could certainly be done but I decided to make things easier on myself, and more comfortable to boot.
Let the learning begin!
(Visited 190 times, 1 visits today)