The City of Rocks is a New Mexico State Park located about 30 miles northwest of Deming, NM on state highway 180. It is in a bit of an odd place – just normal country. Then, all of the sudden, is this area covered in huge boulders. It really gets your attention!
From Wikipedia: "The City of Rocks was created 34.9 million years ago by a volcanic eruption. Then over millions of years, erosion sculpted the rock formations seen today. The eruption was from the Emory Caldera, centered near Hillsboro Peak at the southern end of the Black Range. The eruption was estimated to be a VEI 8.5 eruption. Also related to the eruption was the 314-square-mile Kneeling Nun Tuff."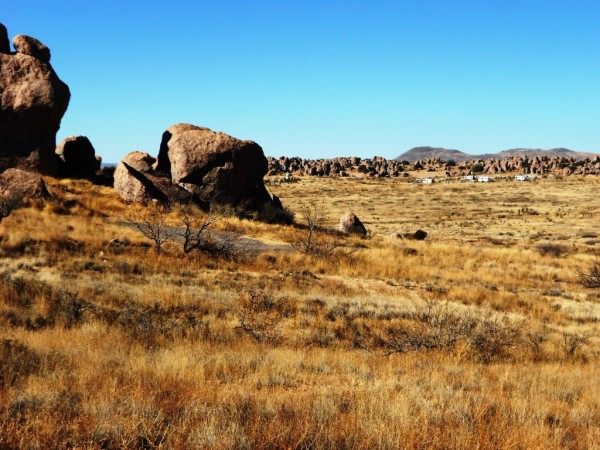 What I know for certain is that the area is pretty neat! The huge rocks are really amazing and certainly fun to hike around and climb on. They remind me of the Baths on the British Virgin Islands. I get a huge kick out of seeing the character of the rocks, the chips & cracks, the erosion areas where water has clearly been flowing and breaking down the rock, even the vegetation and trees that have been able to grow (and often die) in the little areas of opportunity. Fascinating stuff. I probably should have been a geologist.
I spent an enjoyable week in the campground here. Except for the occasional barking dog and kids playing on the rocks, it was pretty quiet. I was in the electric camping spots and they are pretty nice – roomy and well equipped. These spots are a bit more of the typical "line 'em up" style as opposed to many New Mexico State Park campgrounds which seem offer a more dispersed style.
One of the neat things about the area is that you can camp anywhere – right up in the rocks. It is dry camping but it seems that many folks do it – at least the week that I was there. I can imagine that a nice campfire, a spectacular sky filled with stars, and a group of friends up amongst all those huge boulders would be a pretty great experience.
As always, a good connection to the Internet is important to this working stiff. I was very happy to find an excellent 4G Verizon signal. I did not even need to use my Wilson Sleek amplifier.
Circling the park is a hiking/biking trail called "The Hydra Trail". In total, it is about five miles in length. There is nothing challenging about it but it offered a nice, relaxed mountain bike ride a couple times whilst I was there. The real beauty of this trail was the quiet – I did not encounter a single person the times that I was on it and that is pretty cool as far as I'm concerned!
(Visited 330 times, 1 visits today)