My first few fly fishing trips were with boots and neoprene stockings. That felt just fine. The days were hot and getting into that cool water felt great.
However; my mentor went and ruined it for me.
He talked me into trying a pair of his waders one day…
Yup, we both know what happens next – the 'gotta have one of those' syndrome sets in.
I really loved the quick and easy cleanup – simply pull your boots and waders off and you are done. You could walk straight into church and nobody would know you were just out fishing. I can easily imagine there is a huge difference when the temperatures are cool.
So, I started shopping around. I was looking for a reasonable set of waders without spending a bunch of money. I didn't need all the fancy features.
I finally settled on the "Northern Guide Breathable Chest Waders" from Caddis.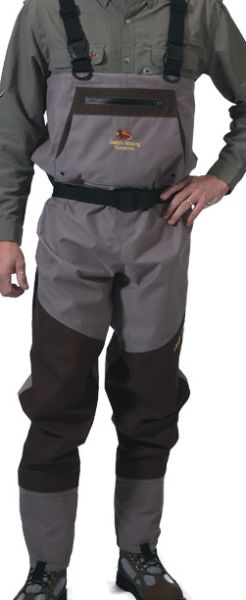 I've used them a couple times and they seem to do what they say they will do. My feet and legs have been kept dry. The belt is nothing fancy and there are no belt loops. My friend had a really comfy neoprene belt (and loops) with his waders. Perhaps that is what the higher cost gets you.
I did learn one interesting tidbit.  These waders have a chest pocket with a waterproof zipper – clearly a waterproof storage area, right?
No.
This pocket has drain holes in the bottom corners.  Of course, that allows water INTO the pocket.  Once again, my phone seems to have survived another dunking – she has proven to be very resilient over the last few weeks (Samsung S3).
(Visited 248 times, 1 visits today)