October 5-7, 2012 was the date for the annual New Mexico Pilots Association (NMPilots.org) backcountry fly-in at the Negrito airstrip (0NM7).  I've written numerous times about this strip – Negrito Landing Video, Me-Own Backcountry Flight/Ride, Negrito Camping, Negrito Breakfast – it is a truly wonderful place. The following video contains some aerial footage and photographs of the event.
This year was the first of what will hopefully began an annual/joint New Mexico and Arizona Pilot's Association fly-in.  Quite a few of the AZPA pilots stayed Friday night at Negrito. It was really nice to have them and to hear of the backcountry progress in Arizona.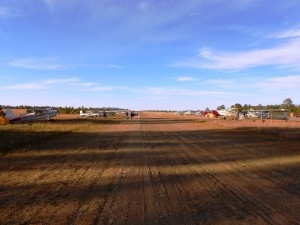 The winds were forecast to be blowing all weekend so I made the flight down to Negrito on Friday morning.  It is about an hour flight, depending on how much meandering/roaming I do. I arrived at about 10:30 am to the winds beginning to blow. Nothing terrible, just enough to get my attention.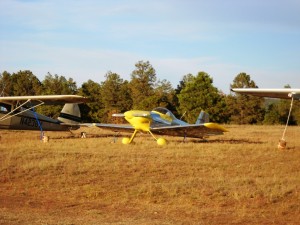 Most people camp right beside their airplane but that wind forecast that I mentioned caused me to walk into the trees about fifty feet or so where I found a nice soft spot.  I can't bring enough gear to make the campsite setup very long or difficult so most of the day was spent watching other aircraft arrive and helping others where I could.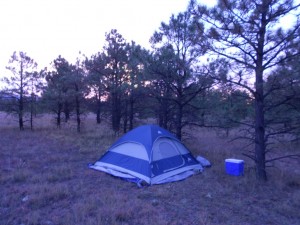 NMPA put on an excellent dinner Friday night with green-chili Brats – fabulous!!  Shortly after eating, I realized that I had done a bang up job getting some good exposure to the sun. Bright red, in fact.  The sting would shortly turn into a more intense sting!
For some reason, it's hard for me to remember to do so but one has to get away from the camp fire and stare up at the stars when in the backcountry.  There is zero man made light and the stars are spectacular.  Once again, the Milky Way was clear as a bell. The whole sky was spectacular!
I'm not the best sleeper when camping – sure wish I could get over that. This night was typical – not a great sleep. Late into the night/early morning, an Elk was calling in the distance and the coyotes started not too long after.
On Saturday morning, NMPA provided pancakes, eggs, and fixings for breakfast. A pretty large group of aircraft then flew over to the Double Circle backcountry airstrip in Arizona for a grand opening ceremony.  I was a bit worried about those pesky winds so I stayed on the ground at Negrito.  We had four baseball gloves so a few of us got out on the runway and gave our arms a workout.  Not too bad for a bunch of old guys!  I worked really hard to prevent my exposed, bright red skin from getting any more red.  I think I succeeded.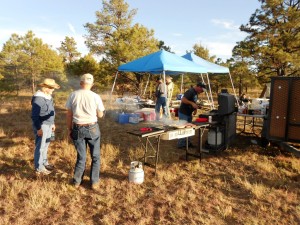 Upon returning from Double Circle, Larry (a Cessna 180 pilot) found that he had a flat tailwheel tire.  No worries with this group!  The repair team quickly terry-rigged a tail stand, removed the tire, and handed to Vernon who is a relatively local aviator. Vernon flew the tire back to his home, fix it, and returned in no time at all.  What a great group of people!!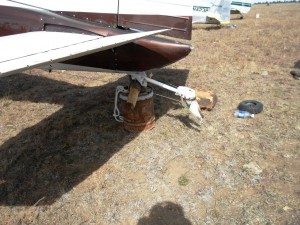 Once again, NMPA put on a great dinner Saturday night. This time steak!  All the attendees contributed a side dish. I most certainly did NOT go hungry – I doubt that anyone else did either.  More time around the camp fire listening to stories and getting to know folks.  Of course, more not-so-great sleep.  I was warm and comfy though.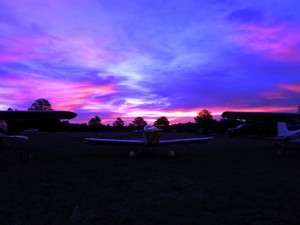 Sunday dawned beautiful and was departure day.  I stuffed my face, again, with pancakes and eggs. I took down my tent, packed my stuff, and hit the skies. I was the third one to depart.  I guess that is a benefit of a small plane that is unable to haul much camping gear!!  I certainly was not in a rush but was interested in missing out on the winds and turbulence that I expected would arrive shortly.
Rather than head directly home, I decided to fly north to Grants, NM and see if I ran into anybody I knew stopping there for breakfast.  This leg mostly followed the Continental Divide north and covered some very pretty country.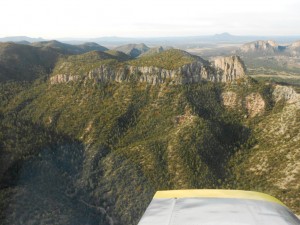 Shore 'nuff!  Once I got to Grants, I found a few folks that I knew but was a bit late for a second breakfast – darn! I finished up my morning flight by accompaning them  so I just flew home with them.
A couple negatives did occur over the weekend.
The first is that the wind kept the trike guys away.  That is too bad cause they are a lot of fun.
The second was Cathy, the current NMPA President, twisted an ankle and hyperextended her knee.  Walking around in the backcountry is a bit tricky – kinda rough.  I'm a poor example but some decent hiking boots are a good idea.
Next, my eating plan took a serious hit – definitely no weight loss progress this weekend!!
Finally, a few days after returning home, my bright red skin blistered began coming off in large chunks (ok, ok… small flecks).  My lips were in horrible shape as well as they took the better part of a week to recover. Probably a good thing I had no one to kiss as it would not have been pretty!  I'm not complaining though – I had a fantastic time and LOVE getting away from the normal routine and enjoying God's creation! Meeting some fine folks, getting to know them a bit, and hearing the many campfire stories made for a great weekend! Thanks to all those that attended!
*The following images are clickable to view a larger version.
(Visited 251 times, 1 visits today)