I am not a fisherman.  I tried spin/cast fishing many times when I was young – I didn't catch much and I didn't find it interesting.  That said; fly fishing has always interested me.  I assume that was because I had never tried it (the allure of the unknown) but it seemed to have aspects that made it appear interesting.  It was active – not just toss your line in and wait. It was done in pretty neat places – mountain streams with spectacular views, flowing water, and a long ways from other humans.
This past week I got REALLY lucky.  While staying on a friends property in Lincoln Montana, another friend from high school happened by.  He has become an avid fly fisherman and fly-tier – we got to talking about fly fishing.  Before long, we were standing in the yard and he was teaching me to use a fly rod and pole.  I loved it!   It was no easy task – there are many subtle movements and timing – it was a REAL challenge.

Before long, I was in a sporting goods store in Helena with this friend purchasing fly fishing gear. A Temple Fork Outfitters 5 weight – 9′ rod, Sage 3250 Platinum 5-6 weight reel and associated other gear (leader, flies, gadgets, etc…).

What a haul of goodies!!  It was SUPER great to have someone in the know guiding me.  I think this may have been what previously scared me away.  I'm always leery of being sold junk or things I do not need when I talk to any salesman, having a trusted friend their eased my mind that I was getting quality gear that matched my needs/type of use.
The next morning we were on the Blackfoot river near Lincoln.  WHAT A BLAST!!  I think I'm already addicted to fly fishing.  As I expected, I was in a stunningly beautiful place and was kept very busy learning and doing.  The rest of the world was far in the back of my head!  This is just a wee bit ironic – my ex-wife loved fishing and so did my boys when they were small.  I rarely (never??) took them. I recall many excuses – too busy with the job, too busy with the airplane, didn't like fishing, etc…  All poor excuses.  So many things that could be done better if we such opportunities.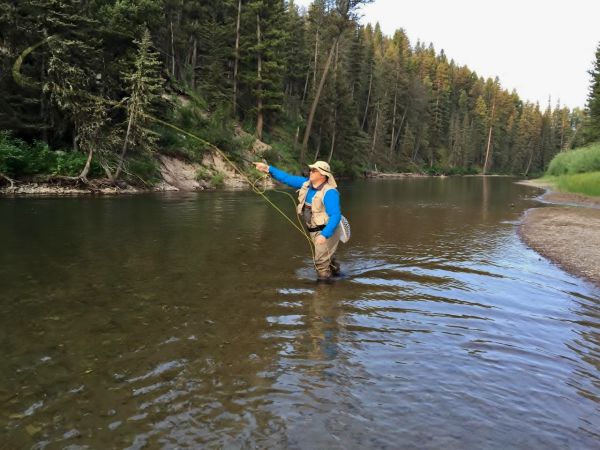 Yes, I know my form is terrible – I'm working on it!! 🙂
No, I didn't catch anything.  However; I did have a half dozen nibbles on my line – I was just far too slow to set the hook.  Another thing to learn!!
So far, I don't know enough about fly fishing to share any advice.  However; there were two related lessons learned that I feel qualified to share:
Remove your wallet from your pants pocket before you wade into waste deep water.
Remove your phone from your pants pocket before you wade into waste deep water.
I predict I'll be eating fresh fish before the end of the month!
(Visited 55 times, 1 visits today)