A month had passed since my last camping expedition so it was once again time to experience "the wild."  It's still a bit cold here in New Mexico (not really but I'm a weenie) so heading west to Arizona is the safe bet.  I camped at the backcountry airstrip known as "Grapevine" last month, as reported here and thought about going somewhere else. However; it was such a great area and the Arizona Pilots Association (APA) does such a wonderful job organizing and hosting the weekend, I went back. Plus – the APA had planned a bit of a get together and I certainly could not miss that!
My RV-4 friend and I (in my Vans RV-3) headed south-west about 10:30 am on Saturday.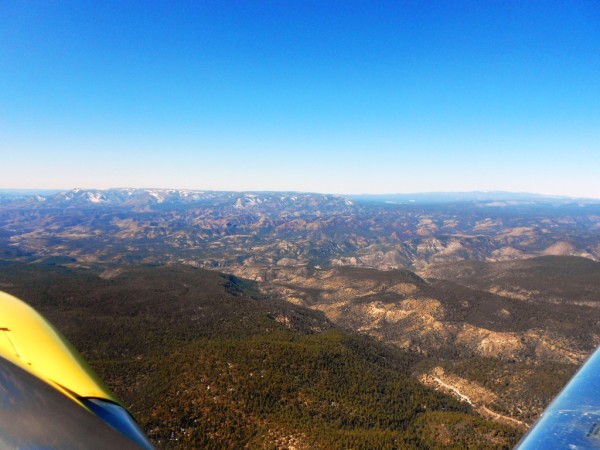 We flew about an hour and landed at the recently opened Double Circle backcountry airstrip in Arizona for lunch (brown bag).  The runway is a fairly narrow, about twenty feet I think; but plenty long. This was a working ranch until the 50's or 60's and is now a ghost-ranch.  Most of the log buildings are falling apart but the "dance hall" building was in great shape.  As you can see from the photos, it is a huge dance floor with a massive stone fireplace.  Very neat!  I can imagine this being a center of attention and a lot of entertaining being done here as this is a pretty remote area – not many settlements nor Wal-Mart's. The camping here would be fantastic but that was not our plan for today.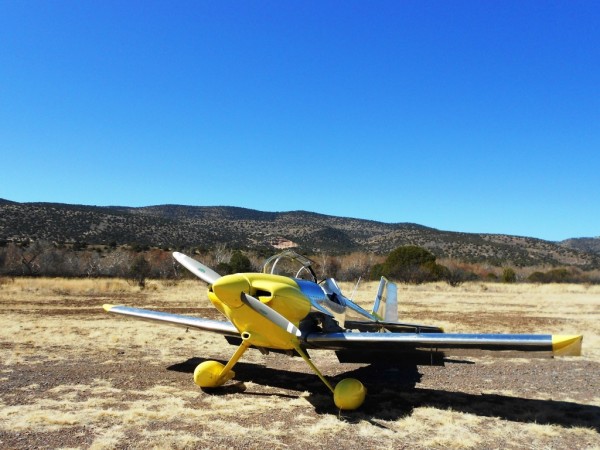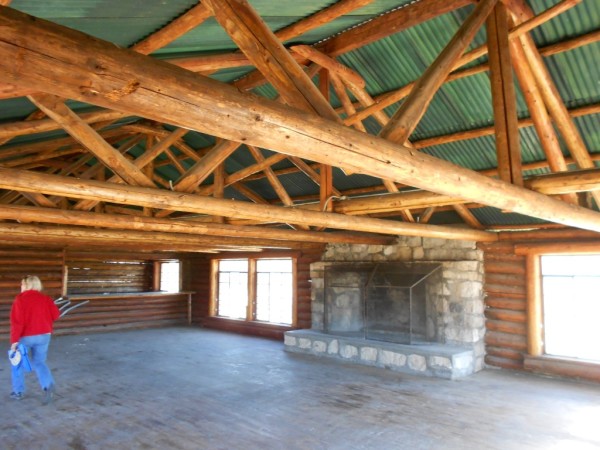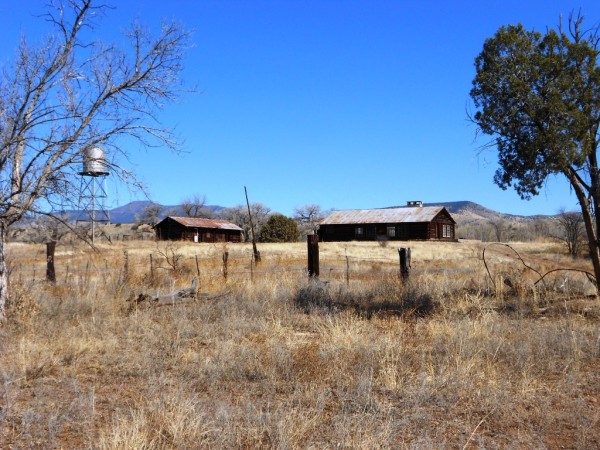 Departing Double Circle, our route was mostly west to Grapevine.  It goes without saying but I'll say it anyway, the terrain is spectacular in this area.  Very rugged but beautiful.  Several high mountain lakes were still frozen.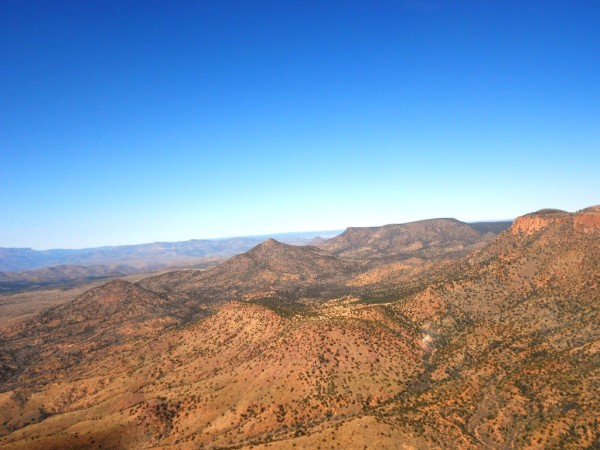 Arriving at Grapevine we found the place jammed full of aircraft!  I was later told that 32 airplanes were there.  We landed, setup camp, and did a bit of hiking.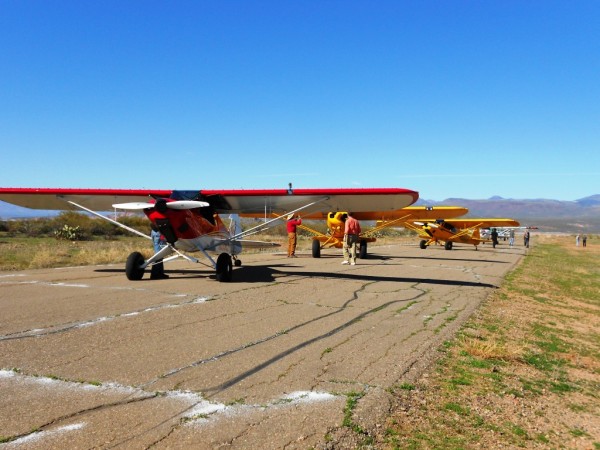 The hike to Roosevelt lake looks pretty short. After all, the lake is just "over there."  So, off we went.  Turns out it was a pretty good little ways thru some light scrub but was well worth it!  The terrain around Roosevelt like is spectacular – I know, I already said that. It really is though, hard not to keep mentioning it!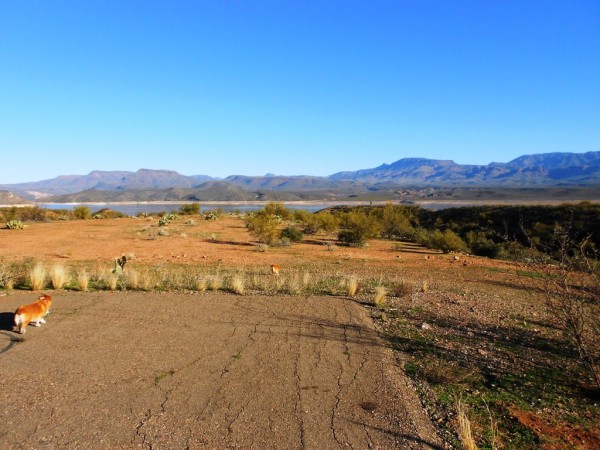 After getting back to camp, my mission was to do nothing else for the remainder of the day and that's exactly what I did!  A beautiful Arizona sunset treated us to some great colors and then the temps plummeted which brought everyone closer and closer to the camp fire which we made sure was getting bigger and bigger!!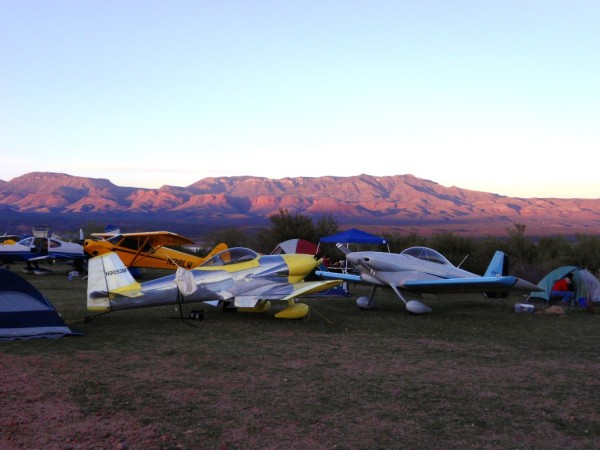 The camping host made a big pot of Sloppy Joe's and beans which really hit the spot.  Following dinner, one of the Roosevelt Lake visitor center volunteers gave a little talk about the history of Roosevelt Lake and the area which was very interesting.  Some of the campers had guitars and harmonica's and treated us to some fine music. The kids made smores. To top it off, a little cowboy poetry which is always a hoot.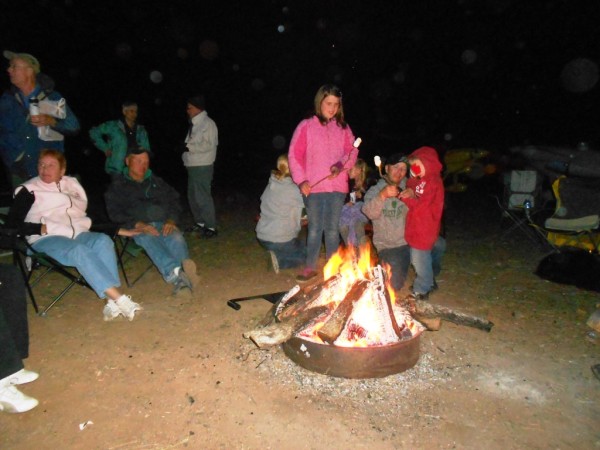 I am a "cold camper," apparently. It seems that I have been cold and not slept well on any of my camping trips to date.  I very much wanted to reverse this trend.  So, this time I brought my normal sleeping bag, an extra sleeping bag, a blanket, a bag liner, and a pillow!!  I laid the blanket over my self-inflating air mattress, put the bag liner into my primary sleeping bag with the bag partially unzipped so I didn't feel so confined, unzipped the extra sleeping bag and laid it over the top of me, and put my winter hat on. This worked out very well and I am happy to report that I was not cold even though the temperature got pretty close to freezing – I even slept reasonably well.  A 3 AM trip to a bush was well worth it as the sky was spectacular!  There is near zero light noise in this location and the sky was brilliant with stars.  Despite being a bit cold, I stood and stared at the heavens for a few minutes.
Morning found most of us crowded around the camp fire again waiting for the sun to heat things up.  It did so pretty quickly – it was Arizona after all.  The campsite found it's way back into the airplane and we were soon off for Globe, Arizona (San Carlos Apache Airport – S18).  A casino sits across the street from the airport so a very short walk had us sitting down to a big spread of food!  The breakfasts here are surprisingly inexpensive and very good. Not sure why camping makes a person so hungry but I was and wolfed down far more food than I normally do.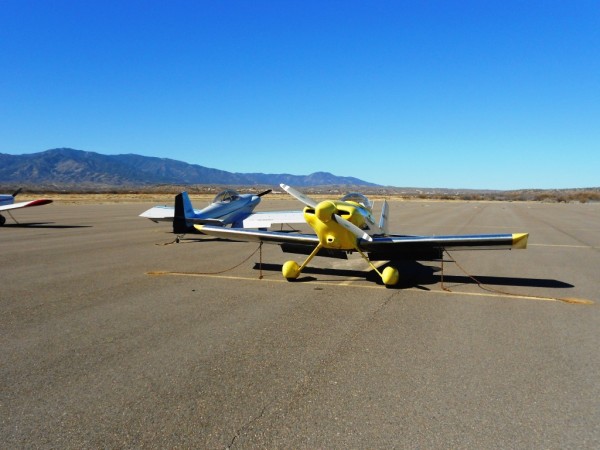 With satisfied tummies, the next goal was to fill the aircraft fuel tanks.  We headed north-east and had a nice little push of 20-25 knots seeing ground speeds of about 185 knots (~210 MPH).  I tried to fly over the snow fields on top of Mount Baldy for some video but it was just too rough so straightened the course to St. Johns. As I have reported several times, St. Johns always offers the cheapest fuel in the area so it is a common stop for anyone passing near.
The wind at St. Johns was about 20 kts from the west and we found a BIG sink hole off the approach end of runway 21.  We loaded up with fuel and were back in the air in no time.
Due to the winds and bumps, we stayed relatively high (for us) and enjoyed the view the rest of the way home.
Once again, I am still in shock at how perfect the weather was all weekend!  No wind at all during the flight over on Saturday and gentle push of 20-25 kts towards home on Sunday.  For those that fly and have never taken the direct route from Albuquerque to Phoenix, do it!  It is spectacular!  Seems like I've been doing it fairly regularly of late and don't think I could ever get tired of it.
I admit to not being much of a camper.  I am learning though.  What I do love; however, is getting away from civilization. The beauty of the wilderness, the campfire, meeting and talking to new people, and the flying.  Of course, climbing into my bed back at home after a camping weekend makes me REALLY appreciate home and the comforts and conveniences!
(Visited 301 times, 1 visits today)