<Previous post in this adventure.>
Saturday night was beautiful.  An overcast sky kept the temperatures moderate and I stayed toasty and comfortable in my sleeping bag.
Nearly everyone awoke early on Sunday and began tearing down camp and stuffing gear into airplanes.  The departures were much more tame this morning.  I was a bit surprised how quickly the camp came down – seems like it took several hours to get things setup.
I was not terribly excited about departing Johnson Creek with a heavily loaded airplane but I knew the RV-3 was up to the task.  I managed to get the video camera started prior to departure but it came out very shaky – maybe some extra processing will save it.  I had to use one of the camera mounts that I do not normally use as the battery in my remote control seemed to be week and would not "reach" the camera when it was on the wing tip mount. The little bird got off the ground and a careful turn to climb over the strip worked out fine.  We were soon at 10,500′ heading over the mountains.
We took a look at Sulphur Creek, Bruce Meadows (U63), & Warm Springs (0U1) before jumping over the mountains to Smiley Creek (U87).  We were VERY disappointed at the terrible turbulence that had formed over Smiley and decided it best to keep going rather than get stuck at Smiley. So, off to Gooding, ID (GNG) for fuel where we met a few of the others leaving the area.
We headed south out of Idaho and down the western side of the Salt Lake City restricted airspace (for military use). This took us near Wendover, UT and almost to Ely, NV before turning east.  At about this point the turbulence started – and it was a real kick in the butt – not fun. I even smacked my head on the canopy a couple of times.
Our plan was to stop in Richfield, UT (RIF) for fuel but AWOS was reporting strong winds (18 kts gusting to 25 kts) mostly across the runway so we turned south to Bryce Canyon (BCE).  Once arriving at Bryce, we found that the AWOS wasn't very positive here either. We needed fuel so elected to land anyway. The wind turned out to be better than the AWOS was reporting so no big deal.  The Bryce Canyon airport is known by all aviators as the FAA written tests include some questions about the airspace/aids to navigation around BCE so it was fun to see it in person.  The following hangar is located there and is WAY COOL!  I don't know if it is a real log building or not but it sure looks authentic.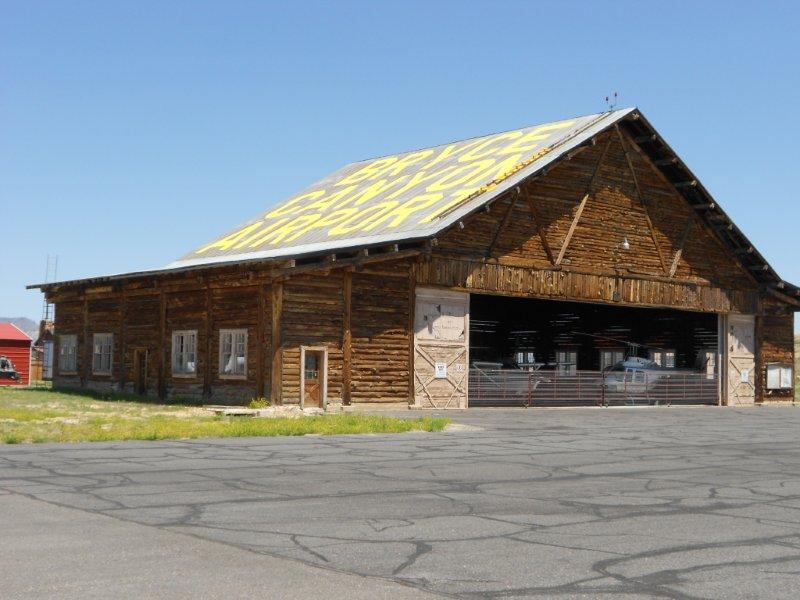 After fuel and snack we were off heading directly home.  The turbulence was certainly not getting any better so my attempts at photos of the Bryce Canyon National Park didn't fair so well.  We climbed to try and get above the rough air and went all the way to 14,500′ hoping it would get better. It was bearable at altitude so we stayed high. We overflew Lake Powell, the Kaiparowits Plateau, Navajo Mountain, Monument Valley,  and Mount Taylor.  All very different than the mountains of Idaho but very beautiful in their own right.
Descending into home was VERY rough!  We had made a good choice staying high.  The outside temperature was 95 degrees and it was BUMPY!  A final landing with a loaded down airplane and the journey was complete.
What an incredible trip!  I am unable to put into words the beauty and wonder that I saw. The high and rugged snow capped mountain peaks, the gorgeous red southwest valleys, the most wonderful green grass airstrips imaginable – it goes on and on…
(Visited 31 times, 1 visits today)