I am super excited!  I have been given a wonderful opportunity and I'm taking it!  A flying buddy has a trip planned to Johnson Creek, ID (3U2) for the Piper Cub Fly-In and has invited me to go with him.  This will then be a two ship (my Vans RV-3 and his RV-4) trip from New Mexico to Idaho – some 750 nm.  Johnson Creek is 26 NM east of McCall, ID (MYL). Here is the Johnson Creek webcam.
I've never flown over southeast Utah nor the Idaho backcountry – and am excited! This is some of the most gorgeous terrain on earth and I get to see it in RV style!!!  🙂  Did I mention that I'm excited!!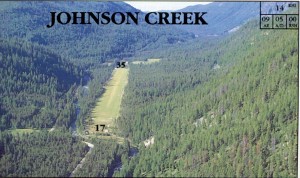 Depending on weather, our route of flight is likely to be northwest out of New Mexico to Richfield, UT with a possible overnight on the dry lake bed near Ibex, Utah – camping, of course. Then mostly north to Johnson Creek.  We'll likely fly to the west of the restricted airspace that is west of Salt Lake City and stop for before going into Johnson Creek.
The plan then calls for camping alongside the runway, campfires, stories, and enjoying the beautiful Idaho backcountry airstrips.  We will not be able to land at many of them but we can at least spot and survey them from the air. My buddy has a backcountry airplane and will be returning to this area in a few weeks with it and his wife so he wants to take a look at a number of these strips.
I've been eating very little these days so my plan is to take a few staples with me and see what happens!  There are plenty of larger airports nearby with restaurants and grocery stores if I decide that I am starving to death!  Ha – not likely to happen any time soon.
Amazingly enough, I weighed my basic camping gear (two man tent, sleeping bag, air mattress, toilet paper, and tie-down stakes for the airplane) and it only came to 20 pounds!  This is good news as it means I can take some fun stuff and yes, even a bit of food. Of course, I have plenty of other gear that I normally carry in the airplane for long cross-countries – particularly those over rough terrain. In addition to some tools, oil, gust locks, tiedown straps, and chocks; I wear a survival vest that contains some basic survival gear. Things like knife, water purification tablets, a bit of water, matches/lighter, compass, emergency blanket, flashlight, etc…  (when budget allows, I'll add a two-way radio)  The idea of wearing these items comes from the military which teaches that what is not on your body is not likely to be with you after an accident – it may sink or burn up with the airplane or you may simply not be able to get to it. So, you gotta be able to survive with what it on your person.
I must admit, I am not much of a camper.  I did some as a kid and tried it a few times with my family when my kids were young but certainly none recently.  I was never very good at it. My back ached, the bugs bugged me, I wanted to be somewhere else…  So, this is going to stretch my comfort zone. However; I am a different person now and I plan to enjoy the experience – even if I must force myself!! 🙂  If anything, I now know to enjoy the time away from reality and work as they will return far too soon.  Time spent on my boat (away from daily comforts) taught me that I can do without those comforts but also to really appreciate them when they are available.
So, enough talk – let the journey begin!
(Visited 428 times, 1 visits today)