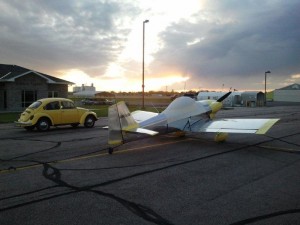 I did a bit of flying last weekend. I was supposed to go to Minneapolis to work in the offices of the company for which I work so off I went.  Sadly, the weather did not cooperate. I am a chicken pilot when it comes to weather. That said; I like the feeling of being on the ground and happy that I am not flying MUCH better than being in the air wishing that I was on the ground!!
I made it half way – Imperial, NE (IML) where a good friend from my high school years lives.  I waited for better weather there while catching up.  The weather never did take a form that made it clear that I would make it all the way into Minneapolis so I returned home Monday morning.  Imperial is a very small town but the airport is quite nice. They even have a pilot lounge and self-serve fuel.
The following photos were taken from my phone – mostly over western Kansas and eastern Colorado. I seem to have forgotten to take photos at all on the out trip and forgot again on the return once I got over the mountains of New Mexico – doh!  Oh well, still learning…
The little RV-3 did great.  There was a LOT of turbulence but it soaked it right up.  I saw ground speeds of 180-190 mph on the way to and mostly 180 mph on the return. This is while burning about 7 gph and making about 25 mpg – can't complain about that! 🙂
I mentioned here that I had left my camera in a hotel room in Las Vegas.  I am very happy to report that it, as well as the hands free headset for my phone, were returned to me very quickly.  I filled out a lost and found claim on the hotels web site. They then reported that they had found the item and I had the choice to pay for return shipping or have them hold it.  Very nice!  I always assume that the housekeeping staff just kept what was found – I was pleasantly surprised!  Thanks!
The 1973 VW Beetle in the photos is my bud's latest acquisition.  He had just bought it and we thought it neet that the color almost matched my airplane. It was in wonderful condition – still smelled and sounded like a Bug – I'm not sure that ever leaves these cars! 🙂
(Visited 55 times, 1 visits today)