I really wanted LOTS of water storage capacity in Missy.
Of course, we rarely get what we want…
I spent a good bit of time contemplating the idea of having two waste water tanks – black and grey. For those that are not familiar; the fresh water tank stores water to be used for washing, drinking, cooking, etc.  The grey water tank stores waste water from the sinks and shower.  The black tank stores sewer waste from the toilet.
As near as I could determine from my research, there was a time when dumping tanks was fairly convoluted – grey tanks only in this hole, black tanks only in that hole. Many places also allowed dumping grey water on the surface. Even other places had slightly different definitions of grey water which was waste water from shower and bathroom sink but NOT kitchen sink (due to food waste).  I've never seen the former and the dumping of any form of "grey" water anywhere but into a dump station has been entirely eliminated (in my limited experience). These days we always dump both tanks into the same hole using the same hose. So, I decided one tank – combined black and grey – was sufficient for me. Smell is not a factor as a grey tank can smell worse than the black. A single waste tank would reduce cost and installation complexity and maybe – MAYBE – save a bit of space.
The issues that I considered to be important were locating the tanks as near to the rear axles as possible and having a fairly straight shot down from the toilet (which helps to minimize blockage issues).
Most diesel motorhomes have the fuel tank located near the front axle and the water holding tanks near the back axle.  Missy has her fuel tank located in the center of the bay immediately forward of the rear axle.  It is a 200 gallon tank so it takes up some space.  I am certainly NOT moving it so decided to locate the water tanks in the next bay forward.  This forces the toilet to move forward as well.  Not exactly according to plan but it'll work – just means playing with the interior layout.
After a great deal of measuring and researching, I decided on a 130 gallon fresh water tank and a 115 gallon black/grey water tank. It would be very unusual to have both tanks full at the same time but it could happen.  At 8.3 lbs/gallon for water, the fresh tank can hold about 1080 pounds. The black tank about 955 pounds. So, slightly more than a ton of water could be held in these two tanks.  That is a lot of weight!! However; it is far more likely than no more than a total of 130 gallons will ever be held in the two tanks. Still, half a ton of weight!
When ordering these tanks, one has to provide a diagram and instructions for the various fittings that are to be constructed into the tank.  You have one chance to get this right.
I put in my order with Tank-Mart.com and guess what…
The 115 gallon tank is no longer available. Grumble… grumble… grumble…
So, back to looking.
I ended up with a very similar shaped tank but with less capacity – 105 gallons.
The fresh tank arrived exactly as I had specified – I was very relieved! These are not items you simply return to the customer service counter when they do not fit.
The grey/black water holding tank arrived a week or two later and it too was "ok." I am not nearly as strongly built or as "cleanly" built but when one considers that it is not performing the sexiest job in the world, maybe "pretty" is not required.  Hopefully, it is strong enough as 105 gallons of black water/waste dumped inside my basement would be… uhmm…  less than ideal!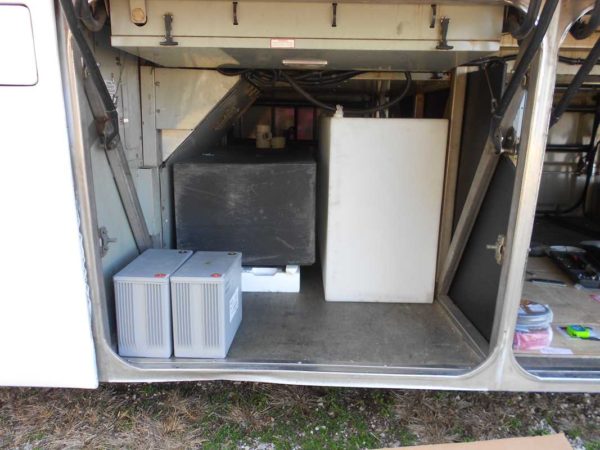 The photo shows where the tanks are going to be permanently installed. Of course, something other than foam blocks will be used under the black tank. 🙂   Also, there are big square steel beams under the floor to support them so they are not falling thru the floor.
They are not secured or connected to anything yet…
Just not enough time in a day…
(Visited 139 times, 1 visits today)