It seems that carrying a kayak or canoe on a Jeep Wrangler is a common problem. One which frustrates many folks.  The problem is that the removable roof and hard shell of the Wrangler does not make for a good carrying platform.
In this post, just over one year ago, I documented how I accomplished the feat of carrying a Kayak on my 2010 Jeep Wrangler JK.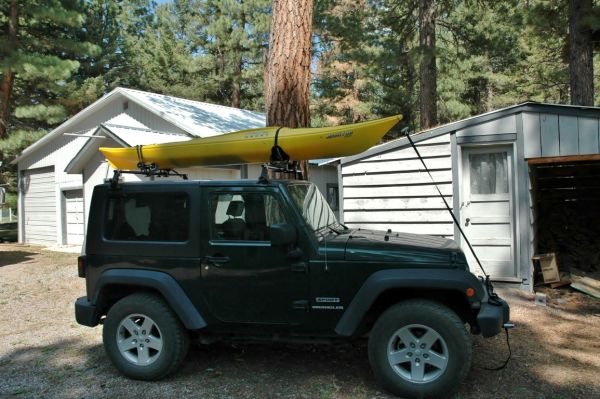 Many folks have asked about how it is working.  I am very pleased to report that it is working just fine.  The Yakima rack and parts are very good quality and still appear brand new. I had to put a couple little pieces of stiff rubber between the Yakima rear towers and the Jeep hard top shell to prevent some slight rubbing. Other than that, no issues.
I've probably hauled the Kayak 4000-5000 miles like this.  My Manitou kayak weighs about 45 lbs, if memory serves.
I do understand that drilling holes in the Jeep Wrangler hard top shell is not very desirable. But, on a positive note, it is on the side, and the black plate and aft location makes the installation pretty innocuous.  One could probably do away with the strap from the bow of the kayak to the Jeep front bumper but it makes me feel that things are a bit more secure.
(Visited 126 times, 1 visits today)