So, I purchased a used kayak from Craigslist last week.  I've been wanting to add a "water sport" to my routine and kayaks have interested me for a long time. I miss my sailboat and the water. A kayak seemed to be a cheap and easy way to at least get back on the water. I found a very inexpensive Necky Manitou Sport and it's even yellow (my favorite)!  She seems to be billed as a good, stable, beginner model.  That's what I need!  She is more like a sea kayak or touring kayak that a fishing or sit-on type of kayak.
Recently, I took her out on the water for the first time.  I've never been in one before and haven't even paddled a canoe in a long time (many decades). What a blast!
The typical me is apprehensive and nervous about this type of thing.  I do not know why – lack confidence I suppose.  I seem to be scared of making a fool of myself.  I've gotta quit that – I hate it.  Instead of enjoying things like this, I stress about them. I love adventure and new things but am somehow able to spoil them.  I tried not to do that today. It helped that NOBODY was anywhere nearby.
I dropped the Kayak into the water at Elephant Butte lake (near Truth or Consequences, NM) at the end of the boat ramp and jumped in.
I was initially surprised by the sensation – kind of like sitting on a 2×4 stood on edge – kinda wobbly. I quickly got used to that and spent a good bit of time in about one foot of water just getting the feel of it. It didn't take long to learn that it was not going to tip over and dump me out.  In fact, it is surprisingly stable.
I worked on proper kayak paddling technique (not using arms shoulders but torso instead) and just getting comfortable.  I even spent some time moving around buoys and other floating objects to figure out how to maneuver the beast.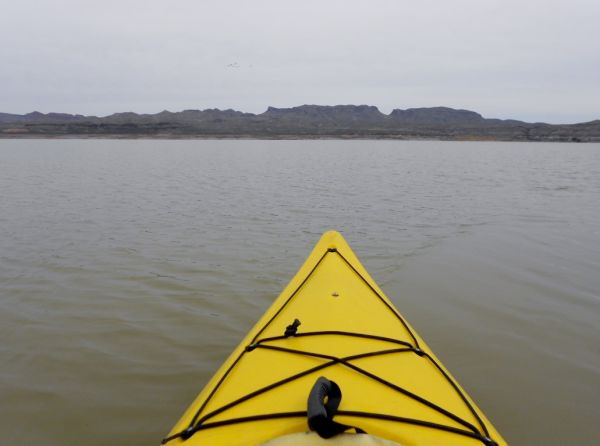 I eventually got brave and ventured out a ways. There was a light wind blowing and about 4″ waves were rolling along – yes, I know, those are very tiny waves!! 🙂  I spent time rowing directly into them as well as at angles – all the way to perpendicular to them.  What fun!!
I spent about two hours paddling the kayak around and now, several hours later, I am starting to feel some soreness! Yay – that is a good thing!!
(Visited 102 times, 1 visits today)