My family gathers at my Mom's home in Missouri every Thanksgiving.  I didn't make it last year so was especially keen on attending this year.  So, I took the week off to ensure that I'd find a weather window to go east.
I watched the weather during the week and Saturday bloomed as beautiful as the weather guessers guessed.  I jumped in my little hot rod and hit the friendly skies.
The flight was fantastic.  I made a quick RV climb to 11,500′ to find the tailwinds. The air was as smooth as glass – wonderful!  There was clearly a system moving thru eastern New Mexico/western Texas as the cloud buildup was visible.  However; I was north of it so it was no factor.  About 2.5 hours later I was descending into Alva, OK (AVK) as AirNav.com reported it as having the cheapest fuel in the area.  The GPS showed 190-196 mph for the entire leg.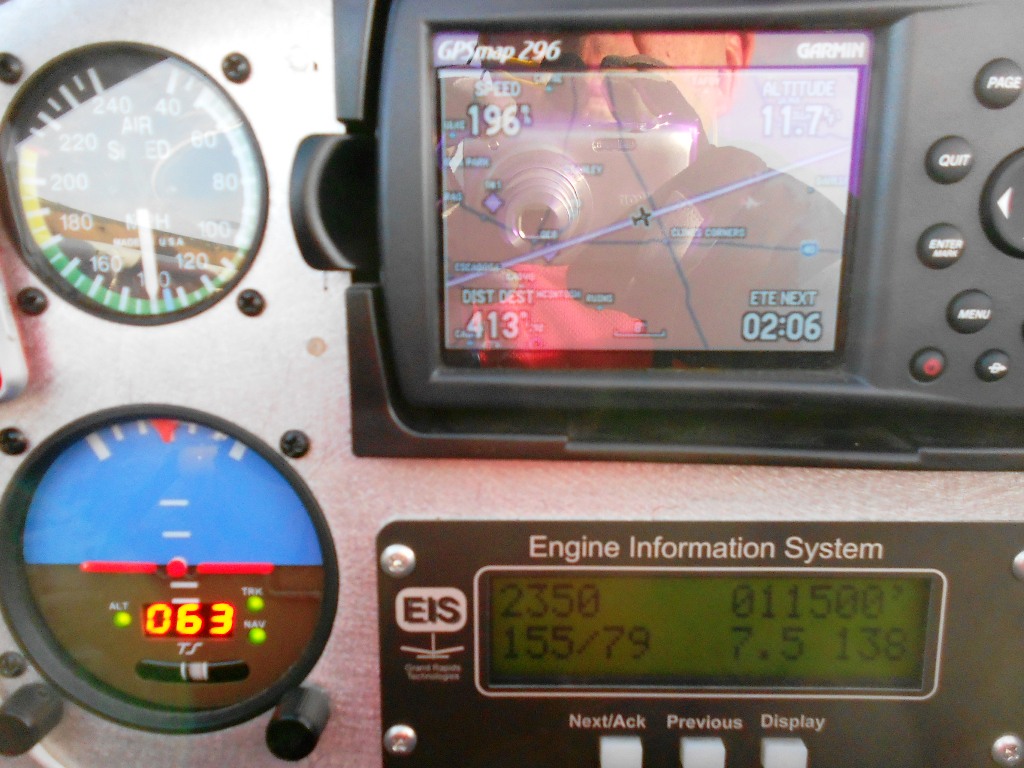 I had listened to a couple of AWOS reports while cruising along so knew the wind was blowing down low.  Sure enough – as soon as I descended thru 4000′ the bumps started. The winds at Alva were 23 knots gusting to 30 knots straight down the runway.  As I entered the pattern, I was a bit surprised to see a bunch of RV's on the ground.  As I landed, most of them were firing up to leave so never did talk to anyone but it appears that they were having a little fly-in/breakfast kinda deal.  Bummer to have missed it!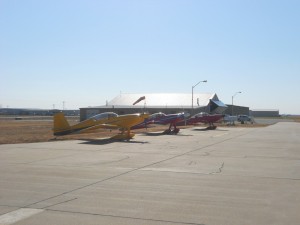 The fuel at Alva was $5.15/gallon which is pretty good for aircraft fuel these days. I filled up, found a potty, had a drink of water and got back into the air. The takeoff was kinda shocking. The airplane rolled a few feet and literally lept into the air and climbed like I have never experienced.  As a matter of fact, I had never flown the little RV-3 at this low of altitude so it was a new experience.  I headed east and climbed to only 7,500′ this time.  The tailwinds were down so groundspeed was also down to 180-185 mph.  Still pretty good!
The air was still glass smooth and stayed that way all the way to Sullivan, MO.  An interesting little deal – they store water in big puddles in the ground. Pretty neat – we don't have that in the desert southwest! 🙂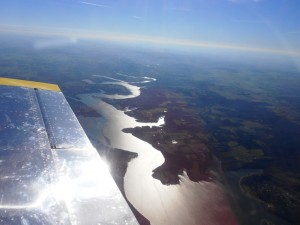 I purchased some 100LL fuel at Sullivan (as my destination does not have fuel available) and found that it was only $4.89/gallon!  That is an amazing price (sadly).  I was quite happy!
I made a couple of check-in calls and text messages while fueling and set my phone on wing.  A quick potty break behind the fuel pump and I was back into the air for the short (10 mile) hop to Saint Clair, MO (K39).  I flew low (for me) at 2000′-2500′ MSL.  That is CRAZY!  My home field ground elevation is 4800′!  The airplane performs VERY differently down this low.  My normal power settings had me rocketing along at super high groundspeeds AND fuel flow!  Throttling back to 2000-2100 RPM and still seeing 160 mph IAS is kinda strange.
Saint Clair is a great little airport which the city is doing everything they can do to destroy.  Apparently the city wants to build a shopping mall on the site. I guess they haven't noticed that there are huge expanses of open space available instead of destroying the airport.  Very sad.  The city has removed all tie downs so I found a fellow in a hangar working on his plane that loaned me some stakes (thank you again!!) and I tied down on a small concrete pad.  I did a bit of searching for my phone to call my family for a ride but alas, it was not to be found.  Where could it possibly be??  I glanced to the wing to see if it was possibly still stuck to the top of the wing where I put it while fueling in Sullivan.  It was not, of course.  Bummer…  I really hate loosing $200 phones. My ride saw my fly over the house so they arrived shortly and we took off down the Interstate for Sullivan.  Believe it or not, another aviator had found my phone on the ramp near the fuel pump and turned it it to the office!  Thank you – thank you – thank you!!  Pilots are a GREAT bunch!!
Half way across the country in one morning.  The RV is truly a magic carpet!  I'm starting my Thanksgiving week full of Thanks for great weather, a reliable airplane, and a safe trip.
(Visited 57 times, 1 visits today)