This post is likely to bore everyone except that one fella who may someday stumble onto it looking for tips for doing something similar. Sorry everyone…
My house electrical system is not too different than what you will find on larger motorhomes. There is 50 amp shore power, 50 amp generator power (no generator yet but there will be), a large lithium battery bank, an inverter (converts DC battery power to 120 volt AC power), and solar power. This all goes together in a fairly simple way…
Ha! Ok – not so simple way… 🙂
First, a tiny bit of background info. A 50 amp RV circuit is two, 50 amp legs of 120 volts each. A 30 or 20 amp RV circuit is one 30 (or 20) amp leg of 120 volts. So, a 50 amp RV circuit is a lot more power than a 30 amp circuit. Two 50 amp, 120 volt circuits compared to one 30 amp, 120 volt circuit.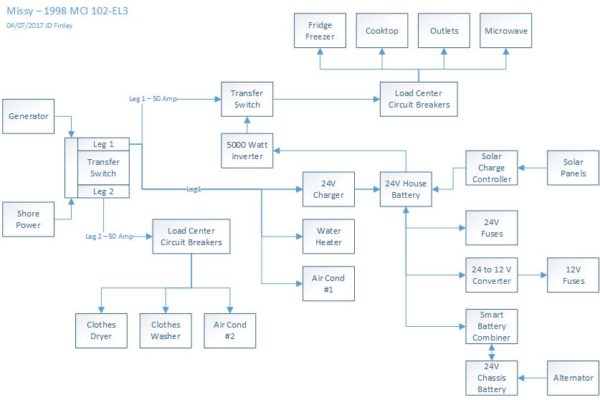 Note from JD: The following is the latest/greatest version of the electrical system (12/28/2017).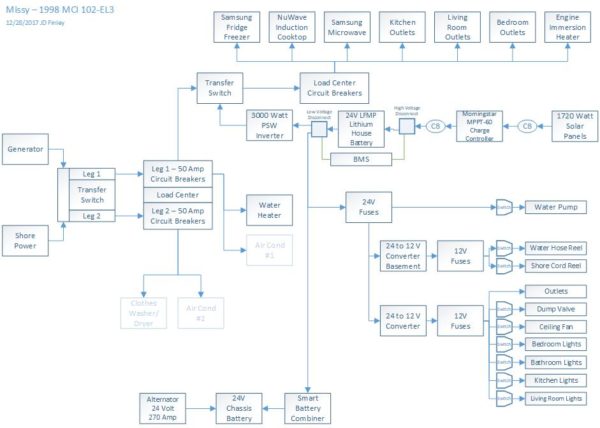 Assuming I am connected to 50 amp shore power or the generator is running, power is coming in on two legs (120 volt, 50 amp each). Call these Leg 1 and Leg 2. When connected to shore power that is less than 50 amp (30 or 20), there is only power on Leg 1. No power on Leg 2 means anything connected to it is inoperable.
Each of these feed into a transfer switch because we can have only one of them supplying power at once. The generator takes precedence over shore power.
The Leg 2 output from this switch goes to a load center (circuit breaker panel) that supplies power to only a few items that are available when that power is available. This is the second air conditioner, clothes washer, and clothes dryer.
The Leg 1 output from this transfer switch goes to a second transfer switch. The other input to this second transfer switch is the inverter. In my case, the shore/generator input takes precedence over the inverter input.
The output from the second transfer switch goes to a second load center. 120 volt power for the house is distributed from here. However; there is a little trick. Power for the battery charger is taken from Leg 1 BEFORE the second transfer switch. The result of this is that if shore or generator power is available, the battery charger is on. If it is not available and we are running on battery/Inverter power, the battery charger is not on and it does not receive power from the inverter (an electrical loop). I have done the same with the water heater and primary air conditioner as I do not want these being powered by the inverter (and batteries).
The solar panels are wired into the MPPT charge controller and its output is direct to the batteries. The battery charger (from shore/generator) and the solar charge controller can work together to keep the batteries charged without overcharging or damaging them.
The major parts used are:
I'm certainly no electrician so if you spot issues or have suggestions for improvement, please share – I'd love to hear them!  I thoroughly enjoy learning new things and this electrical system has provided some learning opportunities! 🙂
Some related posts:
Solar Charging System for Missy
Lithium Battery (LFMP) for Missy
(Visited 492 times, 1 visits today)