One of the few constants in life, in addition to death and taxes, is that plans change.  I was going to sit in the Red Shale campground (this great campsite) for several days but then it happened.  My friends in Helena pleaded with me to come soon.  So, I packed up and headed out Sunday morning.
The drive from Ashland to Billings, MT isn't the most scenic stretch but it does have some good views of the Bitterroot Mountains to the west that, at this time of year (late May), are still covered in snow.  Once past Billings and along the Yellowstone river, the views are fantastic!  I spent my early years on a ranch near Livingston, MT and absolutely love this area.  The Yellowstone scares me as I have seen many people drown in that river but it is still amazing.  My bucket list includes rafting it from end to end.  This is from Yellowstone Park to Fort Peck Reservoir where the Yellowstone joins the Missouri – something like 700 miles.  There is a fun documentary about some other folks doing this very thing, titled "Where the Yellowstone Goes".
There was lots of bridge construction on this stretch along I-90 which meant the pace wasn't very good but I didn't mind – it just gave me more time to enjoy the views!  Seeing how an area changes has always been interesting to me, now that I can look back some 40 years, I can really see the changes.  Some places are grown as expected, some places survived where it was unexpected, and some places have grown where it was unexpected.  In all cases, it seems like there is growth (more people, buildings, etc…).  I actually find that kind of sad.  I am not a fan of large numbers of people no matter the arguments about prosperity, opportunity, etc…
Here's a nice shot (considering I was driving down the Interstate when I took it) of the Crazy Mountains north of Big Timber.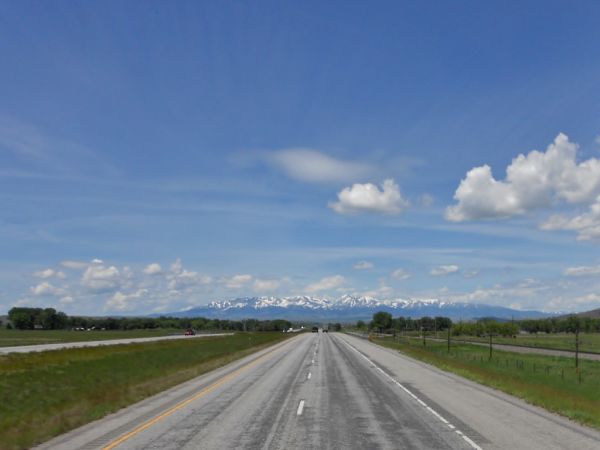 I stopped at the Belgrade, MT Flying J for fuel.  This is not a big Flying J but was big enough!  I really didn't need fuel but I have found that I can save a LOT of money by always filling up before I get below half a tank.  Waiting until you need a full tank can be very expensive!  It occurred to me that I have only filled up JBAM at Flying J's – I've never stopped anywhere else.  I suppose the reason is that I have the Flying J credit card that provides a slight discount on the fuel price and allows me to complete the entire transaction at the pump.  I'm not exactly sure why but it seems if just paying with a regular credit card (at the truck lanes), you have to go in and get it pre-approved.  Since I've not gotten fuel anywhere else, I have no firsthand experience with this but it is something I've been told on the forums.
(Visited 47 times, 1 visits today)