This past weekend saw me driving again.  I left Rapid City, SD Saturday morning and headed towards Broadus and Ashland, Montana.  My plan was to find the Red Shale campground in the Custer National Forest.
I don't recall ever driving this route thru the southeast corner of Montana but I am sure glad I did it.  It is very scenic and a relaxing drive.  I grew up in the Livingston and Helena areas and I still consider Montana to be home.  Of course, the Black Hills of South Dakota and always enjoyable too.
I arrived at the Red Shale campground midafternoon. Thankfully there was a large parking area prior to entering the campground.  So, I took the opportunity to park there, unhook the Jeep, and scout the park.  JBAM is so big that getting in and out of these forest service campgrounds can sometimes be a challenge.  I always feel MUCH better when I have a chance to take a look first.  This one looked good with a few sharp turns being the only challenge so in I went.  There was not a single person in the campground so I picked spot #2 which is fantastic.  You are on a hill overlooking a gorgeous little valley.
I setup camp, got comfy in my camp chair and sat back to listen to the birds and the breeze!  It was fantastic!  Even the smells were familiar – I was clearly home.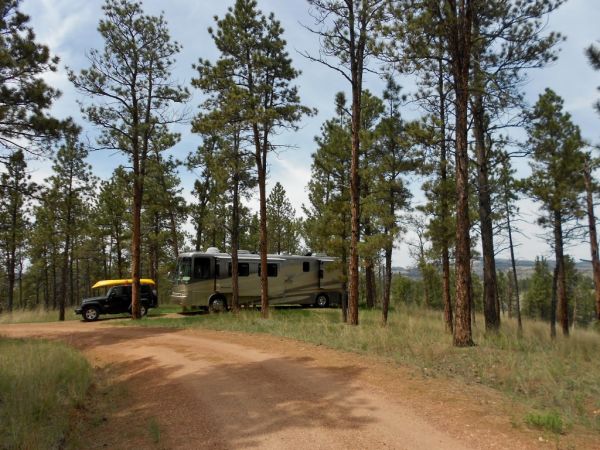 The campground has a couple of vaulted toilets and each site has a table and fire ring.  Beyond that, there isn't much.  No hookups and no trash service. But wow – what a great spot.  I would not trade all the amenities of a big campground with the beautiful view, isolation, and wildlife. The spots are nicely separated and certainly not jammed together.  The only negative is that the campground is fairly close to the highway so there is some traffic noise – mostly when big rigs drive by.  It isn't a super buys highway so the noise isn't terrible but it is there.
I was a bit hungry (again) and thought some dutch oven cooking was in order!  However; I didn't have all the fixings of any one of my recipes.  So, improvised – I stuffed it full of goodies that I had (hamburger, shell pasta, Italian stewed tomatoes, onion, and sour cream. I started twenty five charcoal briquettes burning and put ten under the dutch over and 15 on top of it. An hour later – I was enjoying my a tasty and toasty warm concoction.
My plan is to stay here for most of the week and then make my way to Helena, MT where I have a friend retiring from the Air Force (30 years) and I don't want to miss that party!
(Visited 87 times, 1 visits today)