Missy and I are departing Minnesota this weekend to make the crossing over the Great Plains of North America.
Thankfully, there is no chance of cold or snow.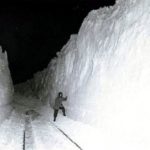 Sunday is forecast to be a delightful 104 degrees. In fact, it appears that 100 degree temps are planned for the entire week – not a single snowflake in sight.
I don't think I need to worry about using my tire chains or snow shovel. Phew…
However; if I do get caught by one of those surprise winter storms for which the Great Plains are known, I have my new cabinets, countertops, and bed frame to burn so I can stay warm so no worries there!
I plan to stay at a campground along the Missouri river for a week and then out to the Black Hills for another week.  At a minimum, it should be a character building experience.
Worst case, I make a run for high ground in Colorado or Wyoming!!
(Visited 62 times, 1 visits today)