The Great Crossing was a success!  It was a race to beat the heat!
However; it did not go exactly to plan.
The 104 degree forecast for the campground near Platte, SD caused me to cancel my reservations and make this a marathon trip.  I am not much for heat – mix it with humidity and I am even less interested.  Sitting in a tin-can oven slowly cooking… naw…
So, I think I won the race!! I am now sitting in the Vedauwoo Campground in Medicine Bow National Forest at 8,000′ elevation – near Laramie, WY.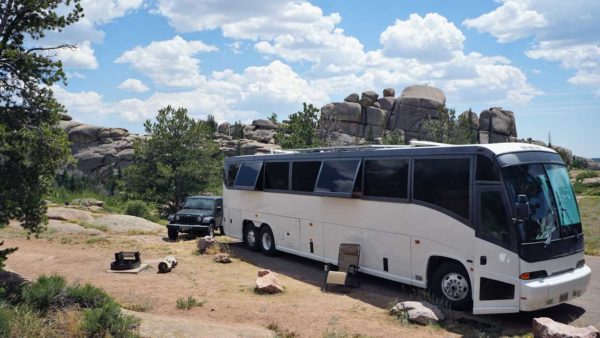 It is a VERY comfortable day with a nice cool mountain breeze.  I am SUPER EXCITED to be in the mountain west again too!
Missy did just fine on the trip but…
She had a power steering hose/connection that was leaking some time ago and they tightened it up during her first medical checkup.  It appears that leak has returned.  Bummer… 🙂
Also have a vibration that I thought I had gotten rid of but I was wrong.  It is in the 55-65 mph range.  I would have hoped that new, spin balanced tires would have fixed it if it was the tires.  I would have hoped that new shocks would have fixed it if it was a shock issue.  And… I would have hoped that new kingpins would have fixed it if it was a kingpin issue.  Probably something silly like an out of round wheel.  Also bummer.
Thankfully, after sitting her for a day or two I will forget all about those mechanical issues!!
(Visited 57 times, 1 visits today)