I'm afraid I waste more time in front of the TV than I would like. Late in the day, it is nice to just vegetate for a bit. That said, the time I spend in front of the TV is far, far less than the national average and I refuse to spend time watching the modern form of "news." Thankfully, I have a fairly good movie collection – yes – I've seen them all more than once…
I fell victim to the 'more is better' approach to shopping when I decided to get a TV for my new home. I had originally thought a 30″ would be fine, then a little bigger, and a little bigger, and…
I also figured HD 1080 would be fine. Then I saw how much the prices of the UHD 4K TV's had dropped.
I've had good luck with Samsung products but a friend at work suggested I look at the TCL product line. I did, liked what I saw, and decided to give it a shot.
So… I now have a TCL 43″ UHD 4K TV.
The thing that is really kind of sad is that it doesn't even look grossly oversize to me…. 🙁
I am hoping the UHD 4K quality gets some use as I have a particular neat video camera that is 4K that often takes some really great stills and videos that I would like to see in all their brilliance!!
Where to mount it????
I played with a variety of possibilities and finally decided that on the passenger wall right across from the couch would be a good first choice.
I just LOVE drilling into Missy's stainless steel frame!! It takes forever and destroys my drill bits. Nonetheless, I was able to get two holes drilled and installed two large nutserts (rivet nuts) and hung the TV.
Maybe worth noting: I have found that 135 degree split point drill bits seem to work much better on stainless steel (304) than typical drill bits (even 115 degree cobalt bits).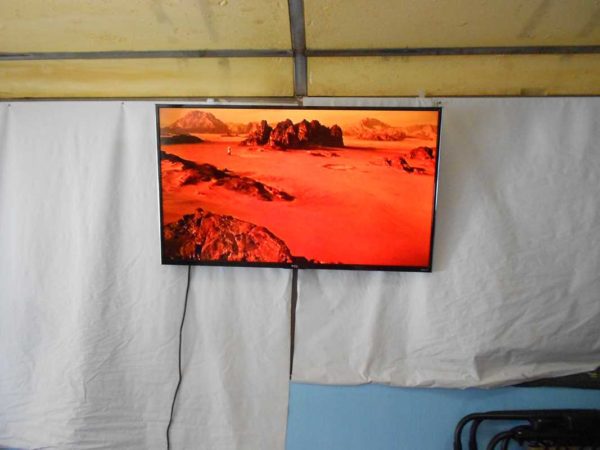 I know… I know… those curtains are pretty low tech.  They are. However; they are only temporary and a much better 'final' solution is planned.
I'm not in any rush to purchase a satellite TV receiver and antenna – mostly because of the monthly cost to have hundreds of channels with nothing on them. For the time being, I'll just be watching the movies that I already have. Since my plan is to eventually have satellite, I'm not inclined to install an over the air (OTA) antenna. However; I have played around with streaming to this TV. I have access to a Plex account with a bunch of television shows and movies. The ability to stream is pretty neat. However; I usually have fairly limited data so streaming doesn't work very well, very often, for me.
Oh, I almost forgot! One thing that I found REALLY NEAT about this TCL TV is that…
The remote control has a headphone jack.
How cool is that!!!!
That allows me to plug in my headphones, watch TV with the volume as loud as I like AND have the windows open without fear of disturbing my neighbors. That is a really fantastic feature!! I sure wish more people would buy and use it!!
(Visited 64 times, 1 visits today)