How to provide hot water in Missy has been on my mind of late.
The typical RV approach is a water heater that heats using propane or electricity (shore or generator). I am not installing propane so that option was out.
I am looking very seriously at the diesel fired hydronic heaters like those available from Webasto and Eberspacher. These units warm air and coolant by burning a small amount diesel fuel. Obviously, using a fuel that I already have on board is a huge plus. The really great thing is that this unit can supply hot water (coolant) for the house heating system (to heat the air via coolant-to-air heat exchangers), heat the potable water (via a coolant-to-water heat exchanger), and directly heat air to warm the basement! So, win-win-win!
I am going to install a water heater such as the Atwood 93981. This unit heats water using 110 VAC shore/generator power or using the hot coolant from the engine. However; this leaves me without hot water when boondocking – unless I want to run the generator (I don't).
To achieve the heating of the house water via coolant, one needs a water heater with a heat exchanger built in. With this heat exchanger the water can be heated by the hydronic heater or the engine coolant. While I've not figured out the details of the hydronic heater yet, I know I really like getting warm water from the engine (while driving). More than once I've been making a long drive and pulled over to take a nice hot shower using the heat provided by the engine. I knew what I needed for a water heater so I ordered it.
Doesn't she look swell sitting in the basement?!?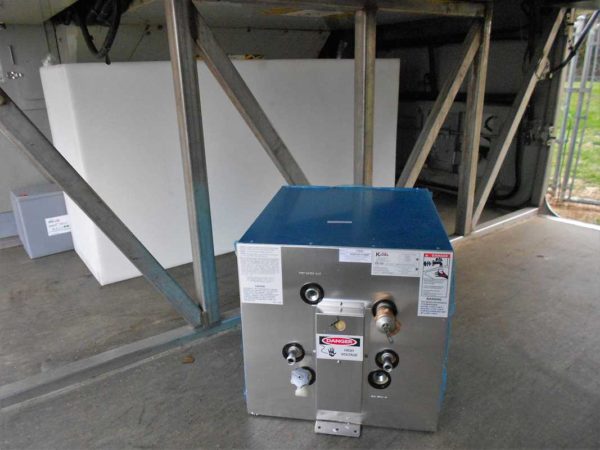 She is a sharp looking unit from Kuuma – an 11 gallon 110 volt heater with heat exchanger. This brand is a little less expensive than Atwood but I am hoping it is not built cheaply – time will tell.
(Visited 83 times, 1 visits today)