This week we are back to the forest. This time near Grants, NM way up high on Mt. Taylor at about 8,000 feet.  I hate to use the word "cold" but…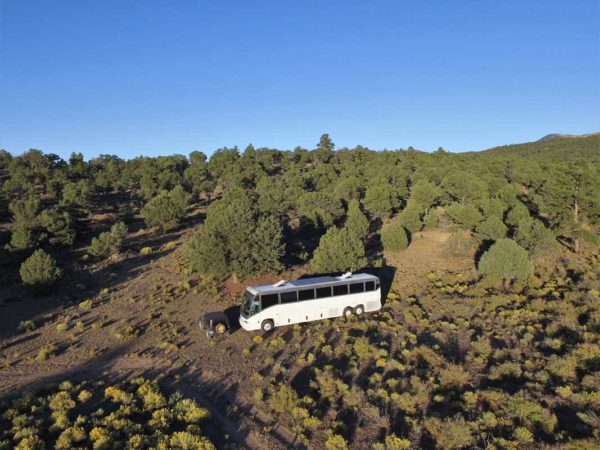 The overnight low has been near 50 degrees the last few nights. As you might guess, Woody and Buzz have been real snugglers with these temperatures! They are probably wondering what is going on. Last week we were cooking in the coach in the hot desert sun, this week we are clinging together for warmth. 🙂
Reminds me of the Tom Petty song with the Lyrics "You got lucky babe, when I found you." The bus boys may not be thinking that now!
By the way, Mount Taylor is a stratovolcano and the highest point in the Cibola National Forest at 11,306′. It was named in 1849 for then president Zachary Taylor. We could use just a little bit of that volcanic heat. 🙂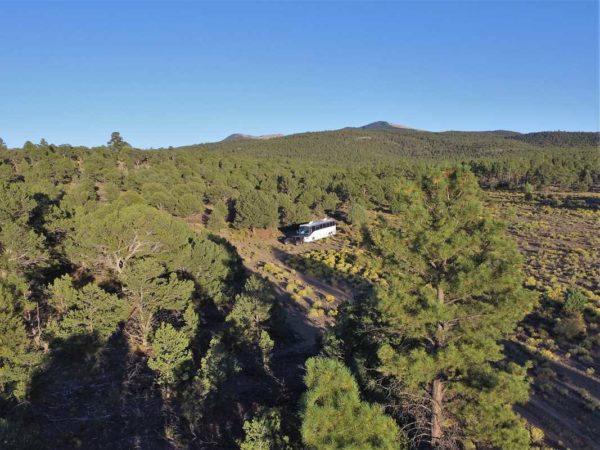 The forest, as always, is beautiful and so peaceful – nearly no "noise" – I love it!
The bus boys have been with me for nearly two months so I figured they knew me and their home pretty well. So, I opened the door and let them go exploring.
They loved it!
They stuck VERY close to the coach, chased every bug they spotted, and explored. This went on for a couple hours and then they'd come inside and crash for a while. As soon as they were awake, they would dash back outside for more. Then repeat! I'm kinda envious of the whole nap thing.
The first spot I tried up here is pictured below. The cell service was very, very bad.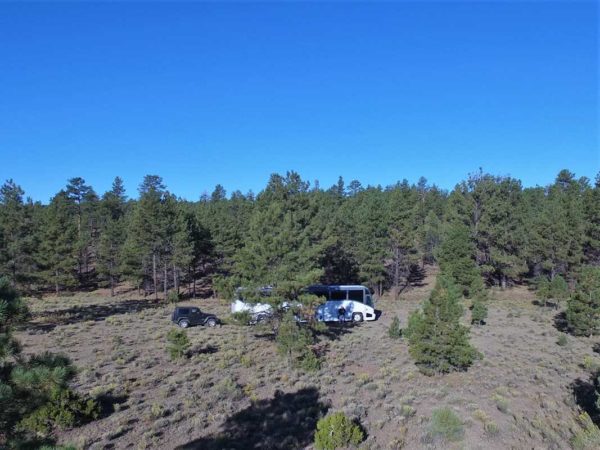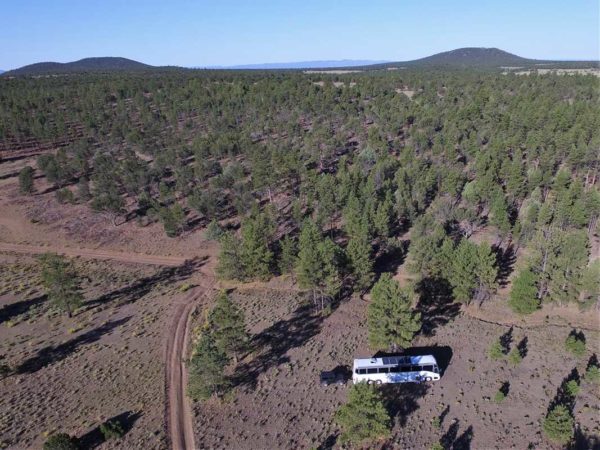 I then did a bit of RF hunting and found the spot pictured at the top. Service is pretty lousy here too but workable. I'm still using my Wilson Sleek amplifier and newly purchased Wilson RV/Trucker external antenna to pull in just barely enough signal. I seem to have misplaced my fiberglass extension pole so have rigged up a wood plank alternative. It sure would be nice to have a sturdy antenna pole that extends up to about 100′ but collapses down to about a cube of about 1′ – I'll have to keep my eyes open for something. It may be time to try one of the new amplifier products… OR satellite Internet!!
(Visited 61 times, 1 visits today)