A HUGE thank you to my friends Dave, Les, Mike, and John!
Thanks to them, the new Kenmore combination clothes washer dryer is in the coach!
As most folks with RV's know, loading big things (like appliances and furniture) into any RV thru the front door is usually a challenge.  Missy is no different.  The washer/dryer simply would not fit thru the opening.  In fact, there was zero chance of it – even if some trim was removed.
So, like the refrigerator/freezer, couch, and cabinets; the washer/dryer had to go thru a window.
Using Les's skid-steer, we lifted the washer up to the wide open window and then used man-power to pull it inside and carry it into the closet.
Easy – easy – easy!!   Well… at least my back doesn't hurt yet…
Thank you all VERY much!  What a huge chore and worry out of the way!
It even looks pretty good in it's new home.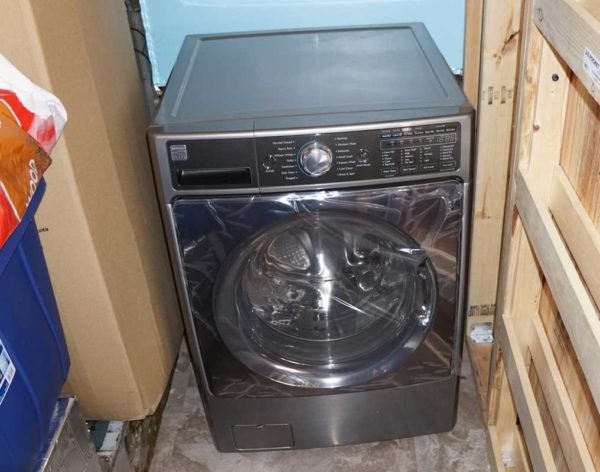 For those that are interested, this is a Kenmore 41003. It is a 4.5 cu. ft. Front-Load Combo Washer/Dryer in metallic silver. It measures 29.75″ x 27.0″ x 38.7″  It runs on 120 VAC electrical power.  I had a number of requirements and this machine fit them all.  I had originally looked at individual washers and dryers. However; they are sized such that I could not fit them inside Missy, at least when stacked (there were too tall). Installing them not stacked simply consumed too much floor space.  I also needed a dryer that worked on 120 VAC.  I realize the drying power is diminished but people that are using this machine (and the similar LG combo unit) are reporting good success.  The combo unit appears more expensive but by the time you buy both a washer and a dryer, the prices come out pretty similar.
No, sorry, I have not hooked it up or tried running it yet….  I have some plumbing work to do first…  🙁
(Visited 56 times, 1 visits today)