A sun cover for my passenger side window/door was the final item on the 'windshield sun cover' list (for the time being).
Note from JD: The windshield cover portion of this project is here.
All of my front windows have quarter turn fasteners installed but I elected to only use the ones on the passenger window/door. This window is very simple – a flat and square window – nice!
I used the same material for this side window cover as for the windshield.  I ordered black Phifertex material.  A description I found is:
"It is a Similar to PhiferTex® but has a tighter weave, which gives it a 95% shade factor.  These fabrics are specially designed and engineered for a wide variety of applications that demand extra strength and/or dimensional stability.  Woven from PVC-coated polyester, PhiferTex® Plus is highly durable, mildew resistant, stain resistant, fade resistant and easy to clean."
I simply made a square cover that was slightly larger than the quarter-turn fastener pattern.
The grommets for the quarter-turn fasteners were ordered from Amazon. I made sure to get the stainless steel version to avoid rust.  They fit the fasteners perfectly.
I didn't want to purchase the grommet crimping tool for only four uses so I simply used a pair of pliers.  This approach seemed to work just fine.
The cover is very easy to install and remove by simply standing on the entry steps.  This material is fantastic – it blocks a huge percentage of the heat and I love still being able to see outside.  Now I need to make one for the smaller window too!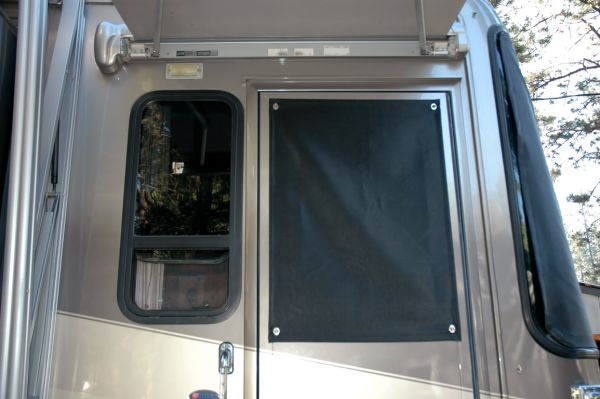 (Visited 113 times, 1 visits today)