Yes, I admit it – I could not stop once I started researching the Bascule type of bridge.  So, this is somewhat of a continuation of that post.  Bridges are amazing – maybe this is a little boy thing. They are big, heavy, mechanical structures most often (these days) made out of steel.  The engineering being them is very interesting stuff, to me at least – kind of brings the 'kid with an erector set' out of me. 🙂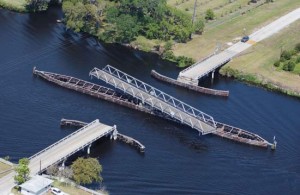 A Swing bridge is pretty much what it sounds like.  They pivot from one end or the center and generally rotate 90 degrees on the horizontal plane. Again, they generally have unlimited vertical clearance for boats once they are in the "open" position.
http://en.wikipedia.org/wiki/Swing_bridge
This is an interesting video of a railroad swing bridge

This is a nicely done video on the "world's smallest swing bridge".
http://www.youtube.com/watch?v=ZuYDbX_JAMU
The following nautical chart snippet shows a swing bridge. Note that the chart lists the horizontal clearance when it is open and the vertical clearance when it is closed.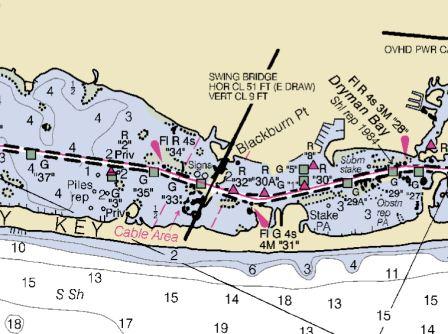 (Visited 530 times, 1 visits today)