I was perusing a nautical chart the other day and noticed a bridge that did not have a raised vertical clearance listed. It was marked as a "Bascule Bridge."  The following chart snippet is what I was looking at – specifically the center bridge.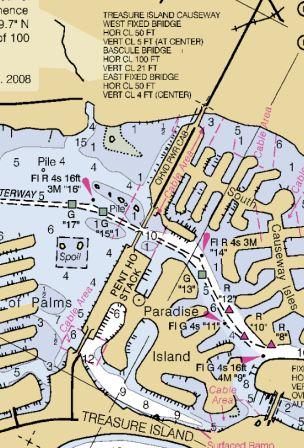 For some reason, I had it in my head that a bascule bridge was a vertical lift bridge where the whole roadway remains level and is just raised up. I was very confused as to why a raised vertical clearance was not listed.  I asked the question on SailNet and sure enough, what I thought I knew turned out to be.. uhm… sigh… wrong.
I hate it when that happens…
That led me to actually do some r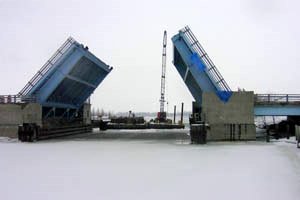 esearch.  It turns out that a Bascule bridge is "a type of drawbridge consisting of two counterweighted leaves or spans which pivot upward on a horizontal axis to allow boat traffic to pass underneath. The counterweights help balance each side of the bridge during the upward swing, which assists in the lifting motion."
As you can see from these pictures, the Bascule bridge has an unlimited raised vertical clearance.  It appears that there may be some that do not rotate a full 90 degrees so there is a limit but it very high – essentially unlimited when considering a boat like mine.
How does this differ from a Swing Bridge?  Check out this post for the answer!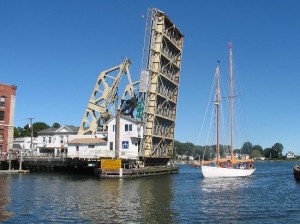 (Visited 249 times, 1 visits today)