The left main landing gear on my Vans RV-3B aircraft shakes at a certain speed – called a shimmy.
I've tried balancing the wheel/tire, rotating the tire (same side, just spinning the opposite direction), removing the wheel pant, and varying tire pressure. The result is mostly the same – the speed at which the wheel shimmies varies with changes in pressure but it still occurs.
All the flopping about was causing damage to my pressure-recovery wheel pant/skirt and this I did not need.  At this point, I suspect that the tire is out of round or something so replacing the tire is my best guess.
I have 5″ Cleveland wheels and am currently running 500-5 tires.  My RV-4 friend has switched to the larger 5″ tires. These are known by a variety of terms, it seems. On the Dresser Tire  website, they are 380-150×5.  I am told that these are a really great option for rough field use as they tire is taller and wider but fits on the 5″ wheel.  However; based on my friend's input, they would not fit into my existing wheel skirt without modification.  Bummer… I was not excited about doing that work.  So, I ordered a set of the 500-5×5 Monster Retreads from Dresser.  At about $65 each, these would seem to be a pretty good deal. Time will tell
The tires arrived in short order and I was impressed. They are a very "substantial" tire – very heavy duty and rigid compared the previous tires I was using.  The thing that surprised me is that they were taller than my existing tires.  Happily, they fit into my wheel skirts. The only work I had to do was enlarge the cutout for the wheel, just a bit.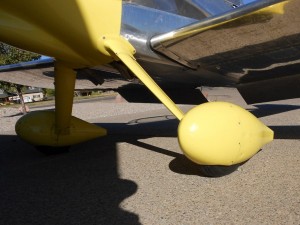 After changing the tires, I went for a little flight.  I was really surprised by the takeoff – it seemed that I was pressing on the brakes – especially the right brake.  As I flew around, I got to wondering if I had really been applying the brakes or if I had possibly re-assembled my wheels incorrectly.  Oh great…  So, I flew to a nearby airport with a larger runway than home and did a touch and go.  As soon as I touched, I knew something was wrong.  CLEARLY, the brakes were binding/dragging. I pulled it off the runway as quickly as I could get the power back in.
I returned home and called for help on the radio.  One of my friends was listening and proceeded out to the runway.  I figured there was a chance that I'd end up off the runway or on my back.
I performed a normal landing. The brakes were still dragging but they airplane was controllable. It was a safe landing.  The really odd part is that once I slowed, the brakes no longer felt like they were dragging.  Hmmm… I said.
After getting back to the hangar and removing the wheel skirts, I checked the brakes. Nothing unusual.  So, I started looking and thinking.  There was quite a bit of rubber "dust" inside the skirts.  It took me a day of thinking about this to realize that the tire was expanding at high speed and contacting the skirt.  Ever watch NHRA Top Fuel dragsters?  Their rear wheels seem to grow from about 3′ diameter to about 5′ diameter when they spin up.  This is what my tires were doing (to a lesser degree, of course).
So, I trimmed some more of the wheel pant away to allow for this tire growth.  The next test flight was entirely uneventful – problem resolved.
The big win, however; was that my shimmy is now gone!!  Yippee!
(Visited 244 times, 1 visits today)