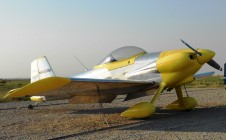 I dropped into the Magdalena, NM airport (N29) a few weeks ago and took the following video on departure.
Magdalena is at 6700′ MSL and is a 6000′ long runway.  As you can see from the video, the RV-3 doesn't need much of it to get airborne.
I got a kick out of the dust storm. The runway has a relatively soft covering of light dirt – almost an ash type of stuff.  A few rocks, of course, so you have to pay attention and try to avoid them.  I had my wheel skirts on and hate messing them up.
This is a gorgeous area on the edge of the Plains of San Agustin.  This is where the Very Large Array (VLA) radio telescope is located (as shown in various movies including Contact with Jody Foster).  Magdalena is a super sweet little town and good place to spend a little time if you are looking to explore small western towns.
(Visited 37 times, 1 visits today)