Some of you may have noticed – I enjoying sewing projects. I've never sewn any clothes though – mostly all "working items" such as my RV window sun shades, bicycle bags, and tote bags. My hope is to get good enough to be able to perform routine sail and upholstery repair (as noted here). Once I retire and am living on a sailboat, this skill set will likely be useful – maybe even produce a little income.
My old Singer has done a fine job for me the last several years but the time had come to move up to a more powerful and capable machine.
The Sailrite Ultrafeed® LSZ-1 walking foot sewing machine is the gold standard in the sailing community for a personal sewing machine that is capable of doing sail and upholstery work. Sailrite was having a 10% off sale so I jumped on it and got a new long-term friend. I'm expecting we'll have many, many years together.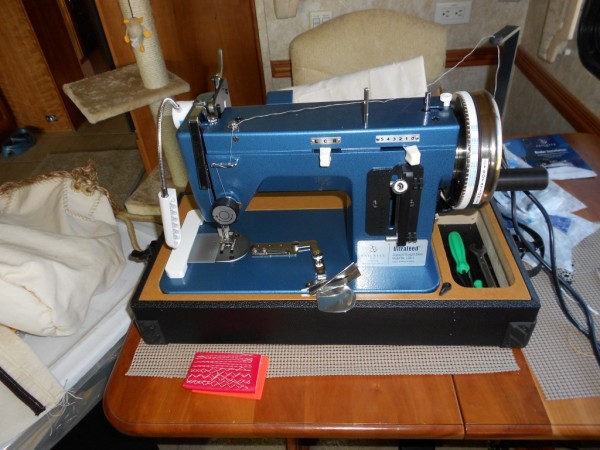 The LSZ-1 is both straight and zig-zag stitch, with a walking foot, and lots of power. In very general terms, this machine can sew a nearly unbelievable thickness of material as well as really tough material. That said, it is still only as good as the person operating it. I wanted to get one now so I can get lots of practice time with it before attempting to run something valuable thru it (like a sail).
There are reviews of this machine all over the Internet from people that are really putting it to work so it will do not good for an amateur like me to attempt a review. I can tell you that it comes very well packed, is very easy to assemble, and is a BEAST!! I am amazed at what it will sew thru and how easy it is to adjust. Very, very impressive!
I also purchased a 1″ binding attachment which is really slick. This allows you to very easily sew binding to the edge of material. Once again, very impressed.
I've already started a few simple projects which will be revealed very soon!
(Visited 302 times, 1 visits today)