Continuing the motorhome selling, sailboat searching, homeless, moving, etc. saga that I started in the last few posts…
The month of November and December were MUCH busier than I had expected! My apologies for the lack of posts and updates.
After removing all my stuff from every nook and cranny of the coach (JBAM), I plopped it all at my Mom's home near St. Louis. Buddy and I settled into the basement had a super-fantastic Thanksgiving with family.
After all the family had left, I started going thru my junk. I thought I had simplified and had very few belongings but after spreading it all out in my Mom's basement I could see that there was still far too much!! I have been eliminating the excess as quickly as possible. Family has helped, Craigslist has helped, and the annual Church garage sale will be a HUGE help – I may even get the coveted "most junk contributed" award!!
I hope it is small or I may have to refuse it.  🙂
After a couple months of boat searching, wheeling and dealing, false starts, half-truths (at best – from brokers and boat sellers), I am very happy to report that I am no longer homeless.
I am now a boat owner! Again!
YAY!
She is a spectacular 2005 Beneteau Oceanis 393 sailboat and I have named her Aria.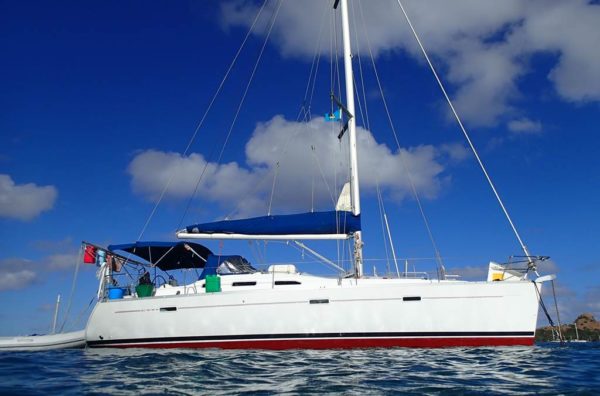 The previous owner/seller was an absolute joy to work with and made the whole process easy.
For some reason, it seems that larger sailboats (40') are no more costly to purchase (at the current time) than mid-size (35') boats and they are more plentiful. So, once again, I have a huge excess of space. She is 39' long with a 13' beam (width) and has three cabins and two bathrooms. I'm thinking of converting one cabin into a sewing room and the other into a machine shop. I suppose another option is to knock down the wall between the two and start building an airplane in there. Ha! That would make her an aircraft carrier!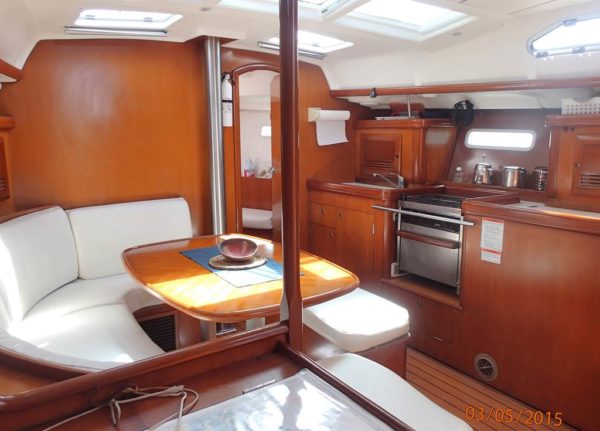 One thing I learned from my last boat is that I did not want a dark cabin.  Aria has plenty of windows and even several skylight type windows so her cabin is very light and inviting!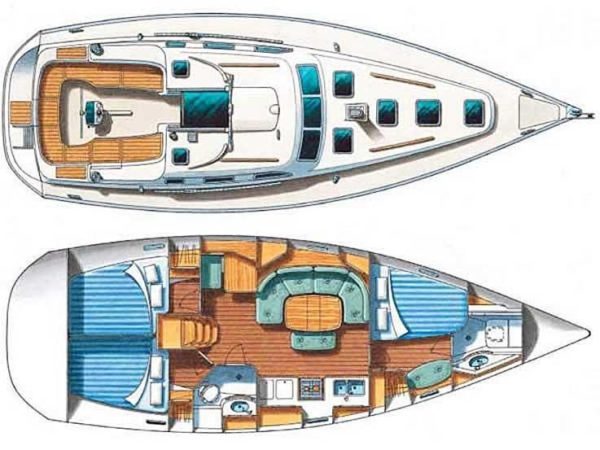 I am flying to St. Lucia on January 5, 2017 to take possession and get a bit of an introduction to her capabilities.  If you are not sure where St. Lucia is, perhaps this will help.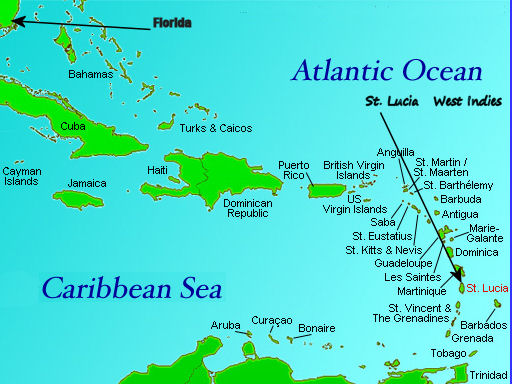 It's about 1,500 miles from Miami!  A common question is; "Do I plan to sail her back to US waters?"
No, I do not.  I plan to stay right there in the Windward Islands.  There is much to explore there and I see no reason to leave until they run me off or I've seen it all! 🙂
Additionally, I have to stay south of 12 degrees 40 minutes north latitude from July 1st to November 1st (hurricane season) for my insurance to be in effect.  That means I'll be in Grenada for that period of time.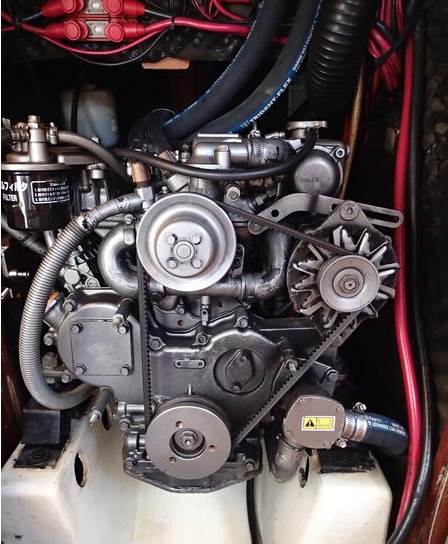 I previously mentioned my plan to transfer my belongings to my new home. Well.. That has changed too. Now I am trying to get everything into three boxes of no more than 70 pounds each. Four boxes if absolutely necessary. As you can imagine, my tools are the heaviest items so most of them are not making the trip. At least not yet. No matter, a real mechanic can fix anything with a screwdriver, crescent wrench and some duct tape anyway.  I should be fine!! 🙂
Buddy seems to be doing great in spite of all the changes. We have taken over my Mom's basement and he is anxiously waiting to get moved onto the boat! However; we have ran into a big problem. It is a long story but the short version is that he cannot travel to the boat with me (combination of Delta Airlines and St. Lucia rules). I'm working on a solution and so far the only one I've found that might work is for someone to come visit me in Grenada in a few months, fly American Airlines, and bring Buddy with them. Any takers??
As always, God's blessings are unbelievable and I am super thankful! The adventure is really building up some steam now!
(Visited 289 times, 1 visits today)