I'm the one constantly harping on people about making noise!!  I love nature and the peace and quiet that it offers.  I really don't like generators, loud conversations, loud music, loud televisions, dogs barking – anything that makes noise that isn't natural.  Waves lapping the shoreline, a breeze blowing thru the trees, birds chirping – these are natural noises that are wonderful.
But alas, I am a schmuck!
Or, maybe my cat is the schmuck???
Last night I was sleeping quite comfortably when I was awakened to the noise of blasting air horns.
Air horns in the middle of the night at a campground!?!?!?
C'mon people!
It took all of two seconds to realize that those were MY air horns.
BUDDY!!  MY CAT!!!
I came out of bed in a full sprint towards the front of the motorhome and Buddy went running – off the steering wheel.
At some point the previous day, I had tossed a jacket on the steering wheel – which was tilted full up to be out of the way, sort of.  Buddy had decided that this looked like a swell place to get comfortable for the night – apparently.  I pretend to know what he is thinking but I really don't – in case you were wondering.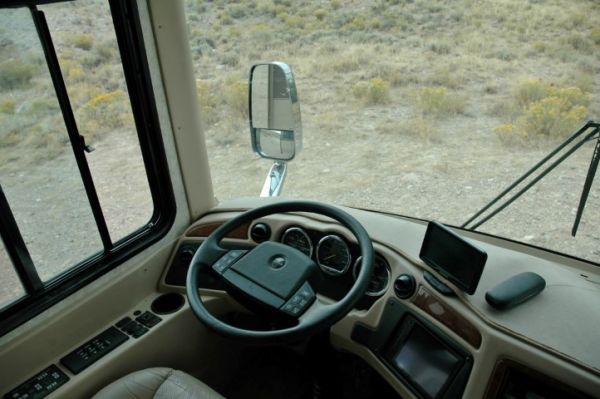 I jammed a clothes basket over the steering wheel so the horn could not be pressed again and went back to bed.  I then laid there for hours… thinking… wondering…
How long had the horns been blasting?
I don't know.
How many other nights has this happened?
I don't know.
What am I going to do about it?
I decided that I would take the walk of shame – around the campground and apologize to each of my neighbors.  I am hopeful that I won't get yelled at too much – I really hate that. Then, I am going to make a cover for the steering wheel so this cannot happen again.
Oh the irony!
I suppose one might wonder why the horns are active when the rig is not running.  I'm not sure.  I suspect it may be some sort of safety device. The ability to make lots of noise if someone is attempting to break in or something??  It doesn't matter too much.  Noise is noise and noise at night is even worse.
A late addition to the post. I stopped at the nearest Lowes and found this "Pine Round" – the perfect "horn cover" – or just a noise stopper!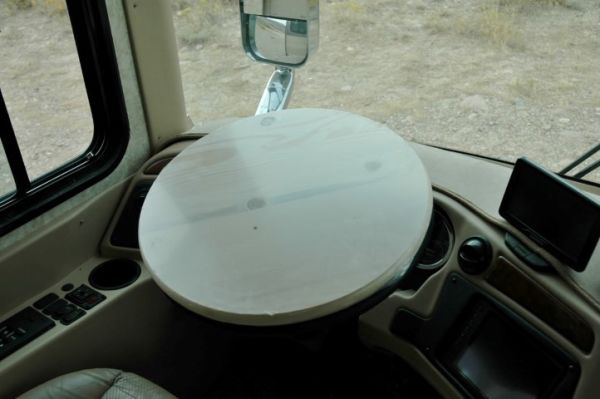 (Visited 74 times, 1 visits today)