The Lake Meredith National Recreation Area is about 30 miles north of Amarillo, Texas.  It is still a bit early to head north (still too cold at night for me) so I decided to try this spot.
The lake is very low but that is true for nearly all lakes in the southwest so that is not a surprise.  The area is relatively pretty (it is north Texas, sorry Texas….).  The lake sits down in a little canyon that was cut by the Canadian River so the surrounding ridge line is pretty with lots of red soil and rocks.  I am here early in the spring so the trees and shrubs are not active yet.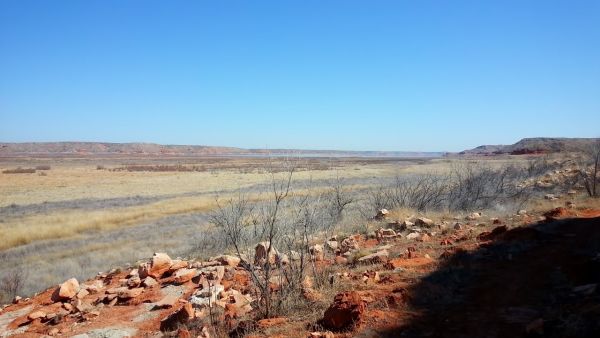 I have setup in the Harbor Bay area.  In this area, there aren't any "RV spots" but there are acres of soil on which to park.  Be careful with the little side roads as some of them have significant drops (significant in terms of a large motorhome).  I explored a couple of the other areas. The Fitch Fortress area has a dump station but very few spots that appeared to be ok for an RV (mostly tent, in my opinion).  The Sanford-Yake area is very large and has many great spots for RV's as well as a dump station.  Both of these two areas sit above the lake and have really great views.  However; they both leave you exposed to the wind.
Verizon cell signal is pretty weak – at least where I am at in Harbor Bay near the boat ramp.  With my Wilson Sleek amplifier, I was able to get a workable signal that fluctuated between 3G (mostly)/4G and about 2 bars.  While walking around, I have noticed spots with much better 4G signal strength. It appears to be a matter of finding a spot with better line of sight to the cell tower.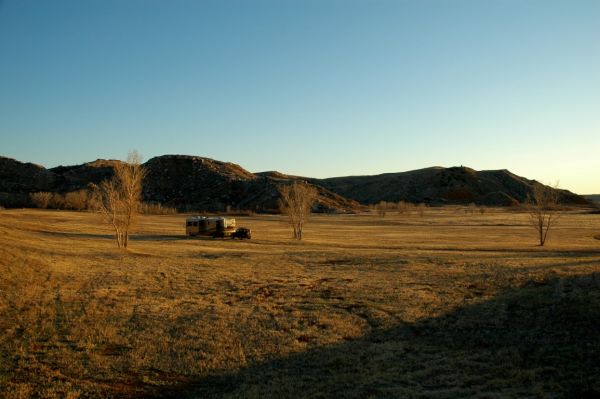 There are several toilets and many trash bins.  I have not tried the toilets but they look clean from the outside.
Sitting down inside the canyon means that the solar panels don't get much sun until about 8:30 am (this time of year – late March/early April).  However; once they do, they were really cookin!  By 8:30 am the 650 watts of panels are making about 200 watts which is about 15.5 amps. By 9:00 am, they are making about 450 watts.
Another benefit to being in a low spot is some protection from the wind.  From my very limited experience, the wind seems to nearly always blow in this part of the country.  I am somewhat protected from it where I am sitting so it is quite comfortable though one does feel some portion of the wind.  Having said that; the wind was really howling one night – I thought I might get blown over.
Another thing that was really nice, over the course of an entire week I experienced only one case of "poor behavior".  In my definition this includes; cars driving around with music blaring, people drinking and make a ton of noise, four wheelers racing around out of control, dogs barking, etc…  This one event wasn't even too bad, just a guy with a dirt bike whipping around making noise for fifteen minutes or so.  He didn't come near and wasn't obnoxious so it barely fits into my definition.
The Harbor Bay area offers a single mountain bike trail (that I could find).  It is a very nice single-track that snakes along what used to be the shoreline.  It is hard packed red soil and is about a 3 mile round trip.  Not the greatest but for someone coming off a broken arm – it was nice to be back in the saddle and on an actual trail!
I would certainly recommend this area to others.
(Visited 110 times, 1 visits today)