If you've been reading this blog for any length of time you know that I am relatively new to the world of road cycling.  If my memory serves, it was nearly two and a half years ago that I started riding an old mountain bike on the road.  Several months later, I purchased a much better used mountain bike on Craigslist. About a year ago, I purchased a used Giant OCR 2 aluminum road bike on Craigslist.  In all this time, I've put a good number of miles on these bikes.  Last year I rode approximately 2200 miles – not a world record or anything but pretty good for a fat boy like me.  Yeah, losing weight and getting healthy has been my goal.  I was surprised when I fell in love with cycling regardless of the health benefits.  I promised to treat myself to a new road bike when I reached 200 pounds.  I'm not there yet, I'm riding as much as ever and eating as little as ever – I seem to be stuck on a plateau. I've lost sixty pounds and that's great but I need some motivation.   So, I started considering my options for a new bike.
Oh, perhaps the most important point, my Giant isn't a great fit.  I've got it pretty close and I'm comfortable enough over 30 miles but then I start noticing the problem areas. I knew I could do better and probably needed to in order to spend more time riding.  Slightly less important, I constantly hear about how much of the road carbon bikes soak up.  I ride rural roads and over a lot of road cracks, expansion joints, railroad tracks, etc..  My existing aluminum bike occasionally leaves my hands buzzing after a rough ride.  I would like to try carbon to see if this "harshness" is smoothed out somewhat.  This would also help with longer rides.
So there you have it – I needed a jolt of motivation and wanted a better fit/more comfortable ride.
I did a fair amount of online searching for Carbon Fiber frames. There are many options on Amazon and eBay. I eventually decided on VeloBuild.com, mostly for two reasons.  The website includes a forum on which much information is listed with buyers experiences and reviews and this is all they do (bike parts).  These things made me feel more comfortable and like I would get a product that I liked.  Their prices are very good so the premium for this feeling was quite minimal.  Prior to ordering, Chris at VeloBuild answered all of my email questions quickly and completely.  Of course, just walking into the local bike shop would have also worked and eliminated all the mystery/concerns but that just isn't me (cheapskate and DIY'er).
So, I placed my order:
• VB-R-028 frame 54 cm (includes fork, seat post, seat post clamp, and headset) in 3k carbon weave, gloss finish
• Shimano 105 group set (the new 2014 5800 model) with compact gearing
• Two BR-006 carbon fiber bottle cages
• ST-001 100mm carbon fiber stem.
From Nashbar, I ordered:
• Shimano 105 pedals
• Duro-Pro 700C x 25mm tires
• Self-sealing tubes
• Cables
• Stem spaces
• Bar tape
From diy-bike (an eBay seller), I ordered a 38mm carbon fiber 700C clincher wheelset.
All of this combined with the carbon fiber handle bar mentioned here, all the parts necessary for a really swell new bike were on their way.
The wheelset was the first thing to arrive.  The wheels were nicely packed in a box obviously intended for shipping wheels – very nice and very well protected.  My reaction? Wow!  The wheels look great and they are SO LIGHT!  Very, very impressive.
As soon as the tires and tubes arrived, I mounted them to the wheels.  I watched a few YouTube videos on mounting tires to carbon wheels (clinchers) and there isn't any difference than mounting to an alloy wheel.  As always, some care is necessary to avoid pinching the tube or scratching the wheel.  Using plastic tire levers is critical, in my opinion.  Once all together – they look amazing.  I am super stocked to ride on them!
Many people wonder about shipping times from China.  I have only two experiences with EMS – the wheels and frame.  In both cases, the box arrived one week to the day after I was told that it had been shipped.  Thank you shipping guys and US Customs.
I refreshed the tracking information every 29 seconds for three days.  Finally, the mailman pulled up and had a big box for me!!  I hugged him and told him how much I loved him!!  Apparently he doesn't get that reaction often – he left but seemed to be keeping a close eye on me as he drove away.
VeloBuild packed the group, frame, fork, post, and stem really, really well.  The only thing that was odd is that the headset parts were just bouncing around inside the box.  I'm going to give VeloBuild the benefit of the doubt and guess that customs did this.  In any case, all the parts were there and there was no damage so my happy dance continued.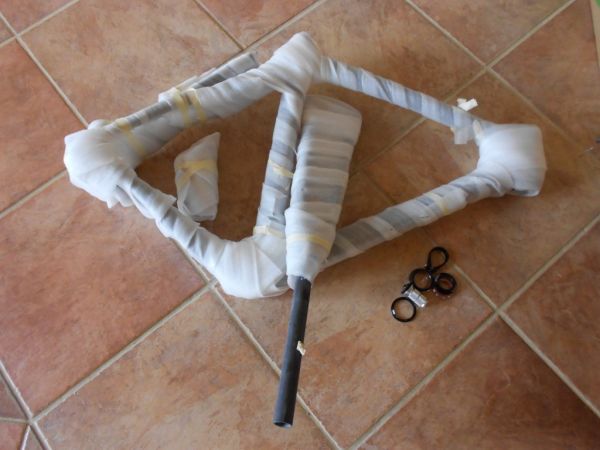 Unpacking all the parts was like Christmas in July!  Everything looked wonderful and the carbon parts were incredibly light.  Even better, all the parts were there!  I'm one of those little boys that likes to unpack everything on Christmas morning, play with it all, and by evening wonder what there is to do.  So, of course, I immediately set to work assembling the bike.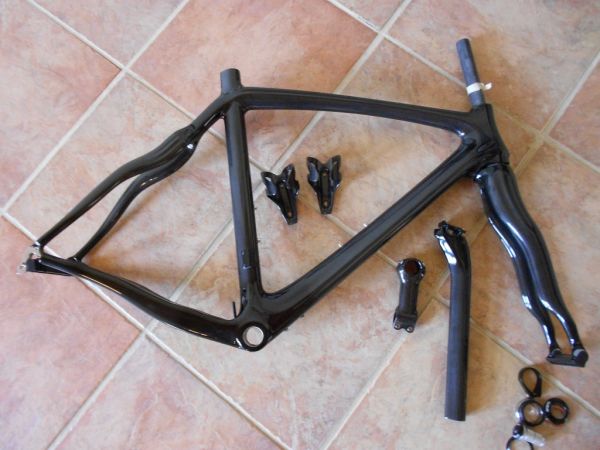 The first thing I did was clean the frame threads at the bottom bracket.  There was a small bit of junk in them but not much.
Next was trimming the fork steerer tube. Since I was unsure how the bike would fit, I elected to trim it rather long and fine tune later.  I used the steel hose clamp trick (for a straight cut) and a 32 tpi hacksaw.  This went very smoothly, as expected, and I cleaned up the cut with a fine file.
From here on out, it was simply a matter of bolting parts onto the frame.  Most everything went on very smoothly but there were a few issues.
The lower bearing of the headset provided by VeloBuild with the frame does not fit well.  It goes in snugly but then loosens up once seated.  This is a problem that I will address soon.
I had never installed a brand new chain without having the old one to measure first.  It seemed logical to mark how much chain was necessary for the highest gear so that's what I did. However; after doing so, I found that the chain was still too long and the rear derailleur could not take up all the slack so I took out three more links.  I ordered/installed a SRAM PC-1130 chain with their Powerlock link which makes maintenance so much easier!  In hindsight, the Shimano installation instructions (for the derailleurs) are pretty clear on how to do this – I just found the information too late.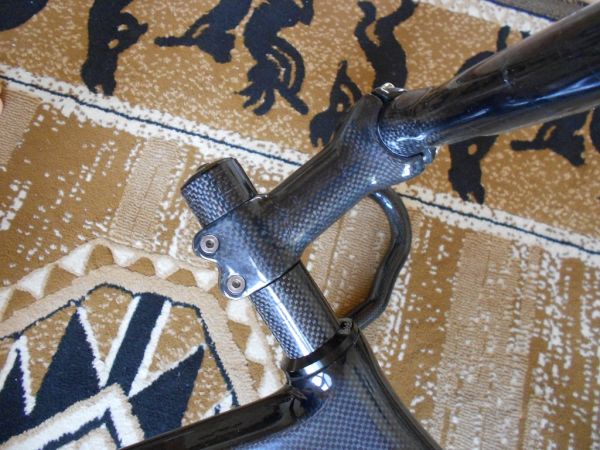 I am terrible at tuning the derailleurs – I guess this is just something I have not done enough. I spent a lot of time trying to get them right and they seem to be ok but not perfect.  I'm sure cable will stretch and things will settle in during the first fifty miles so I won't be too particular to start.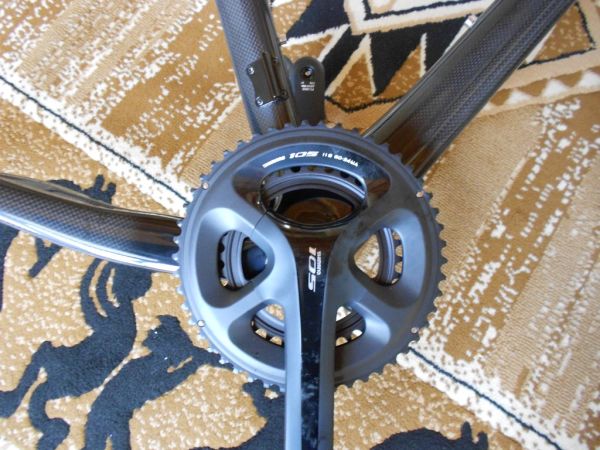 Carbon wheels use a "special" brake pad and the wheels that I purchased came with a set.  Removing the pads that came on the Shimano 105 brakes was quick and easy but (apparently) an important thing to remember.  I was warned to make sure the pads stay clean as bits of grit and/or metal will damage the wheel.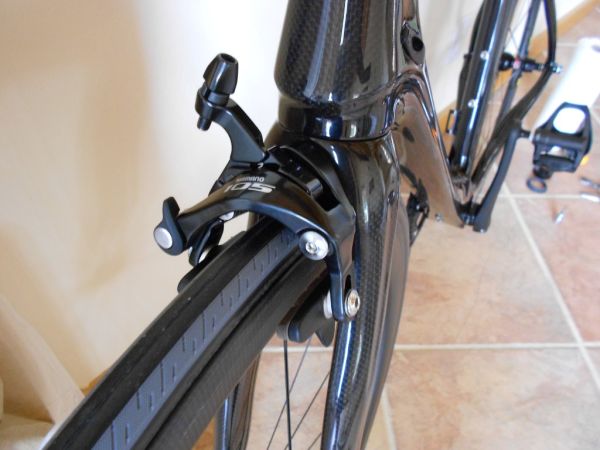 From the bike forums, I learned that carbon parts are very sensitive to over-torqueing and easy to damage.  To avoid this, I purchased a small, 1/4″ drive torque wrench and the appropriate size metric hex socket drivers.  Using this tool made me feel much better and seemed to work since I didn't strip out anything or ruin any parts!  Yay!
Several weeks ago I decided to cover the areas of the frame that are subject to chips with the clear 3M tape that they use on the front of cars to prevent rock chips.  I ordered a small roll of the 8 mil stuff from eBay.  I should have applied this tape BEFORE bolting all the components on but live and learn.  I carefully measured and cut pieces for the downtube, seattube, and chainstay on the drive side.  Sticking them in place was fairly easy as the 3M tape is pretty forgiving.  Two other small strips were applied where the brake cable housing can rub on the front of the head tube and also where the speed sensor is zip-tied to the chain stay (looks better back there than up on the fork/front wheel).
In a few short hours, the bike was together and looked FANTASTIC!  Of course, I was a bit surprised by the weight – or lack of it.  Just to be sure I wasn't imagining it, I picked up my old Giant OCR 2 aluminum bike that I've been riding in one hand and this carbon bike in the other. WOW – there was a HUGE difference!!  I plopped her on my very unscientific bathroom scale and saw 18.5 lbs.  Note that this is with heavy "puncture resistant" tires and self sealing tubes. Not sure how much weight that adds as it is just standard equipment for me.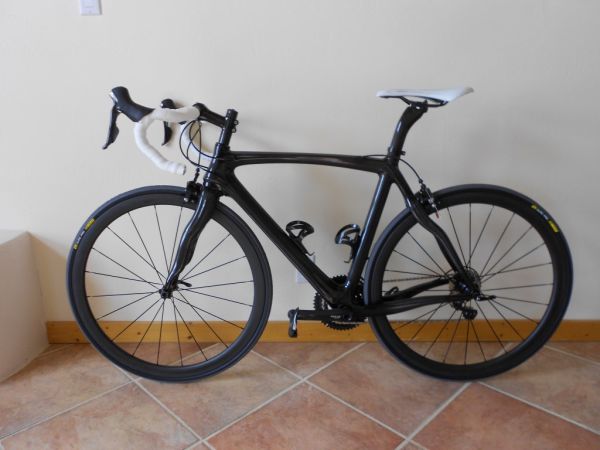 I did a basic fit, took her outside, and rode around the block while messing with all the typical adjustments.  By the end of a couple laps, she was feeling very good!
I have very little experience on different road bikes. In fact, my Giant OCR 2 is it.  I'd love to compare this to a dozen other top bikes but I can't.  I would say the Giant is lively – it likes to accelerate and is very spirited in the corners.  The R-028 has left my sensations a bit confused.  It is so light that it feels wrong. Hopefully the rain will subside, I'll get some miles under the wheels of this beauty, and have a useful review in the very near future!
Ha – a cliff hanger!
Note from JD: the first impressions post is here. An additional follow-up is here.
(Visited 606 times, 1 visits today)