I've been running Continental Gatorskin tires on my road bicycle for the last 1000 miles or so. It was time for new – especially after the last goat head season.  I had a couple flats due to goat heads puncturing the sidewall. During the last repair, I removed about half a dozen thorns from the tread portion of each tire that had not yet caused a puncture but time was not on my side.
Shopping around, I found that these Gatorskin tires are not exactly, inexpensive. Even on sale they are around $50 each. Of course, being a cheapskate, that didn't settle very well.
I eventually found the Nashbar Duro Pro tires.  They are advertised as "Dual compound tread improves traction in the corners without sacrificing rolling resistance or tread wear" and "Lightweight but tough bead to bead polyamide layer protects from punctures and sidewall cuts."  Ok, I'll bite.  Ended up purchasing them for $20 each in the 700C x 25 size on a day when shipping was free.
They arrived in short order and appeared to be normal tires.  I mounted them up and went for a spin.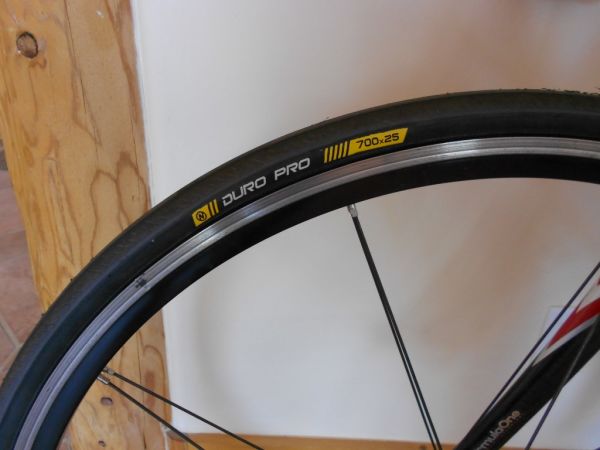 I now have about two hundred miles on them. The new tire molding hair still exists in some places and neither tire seems to be wearing at all and certainly not excessively.  I've not ridden in the rain so no data in slippery conditions but in the dry they feel no different than the Gatorskins (to my big butt).
One little thing I've noticed while working on my bike (spinning the tires while on the stand) is that the wheels seem out of balance.  This may have been the case with the old tires and I simply did not notice it.  It would seem that bike tires are always heaviest at the stem, I dunno.  Just an observation, not a negative or problem.
No flats, knock on wood.
Time will tell but so far I am very satisfied with my twenty dollar tires.
(Visited 346 times, 1 visits today)