This past week I finally got around to installing the battery temperature sensor that I have for my house battery bank and solar charge controller. I purchased the sensor months ago and I have just been waiting for the arm surgeon to give me the ok to return to normal life.
Batteries require a slightly different voltage based on temperature. A cooler battery needs a little higher voltage and a warmer battery need a little lower voltage. With this sensor installed on one of the batteries in the bank and connected to the Morningstar TS-MPPT-45 charge controller, the controller can automatically adjust the charge voltage to match the batteries needs based on temperature.
I installed the charge controller in a fairly convenient location so this install went smoothly.  The hardest part is running the cable.  I finally broke down and purchased my own electrical snake (or fish tape).  I picked up the 25′ Klein Tools unit from Amazon (here) instead of borrowing from friends.  With the snake in hand, fishing the wire from the basement back to the battery compartment took all of 5 minutes.  Very nice!!
Notice the bit of information at the center of the top line of the display – 67F – that is the current battery temperature.  Yippee – it is working! 🙂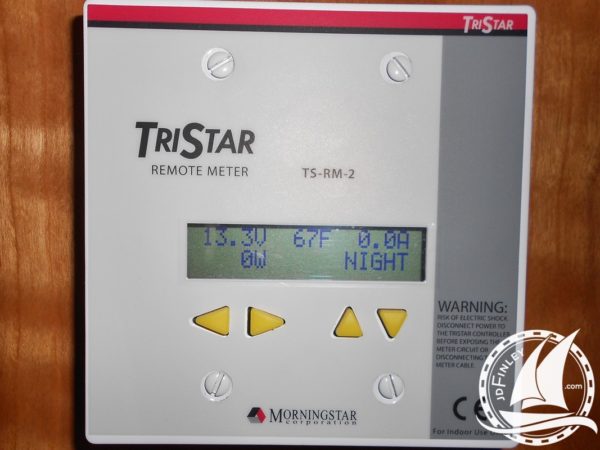 Since I just installed brand new batteries in my house bank, I want to do everything within reason to take care of them so they live a long and productive life!  Can you see the sensor in the following photo?  It is on the top-left battery, on the right side post.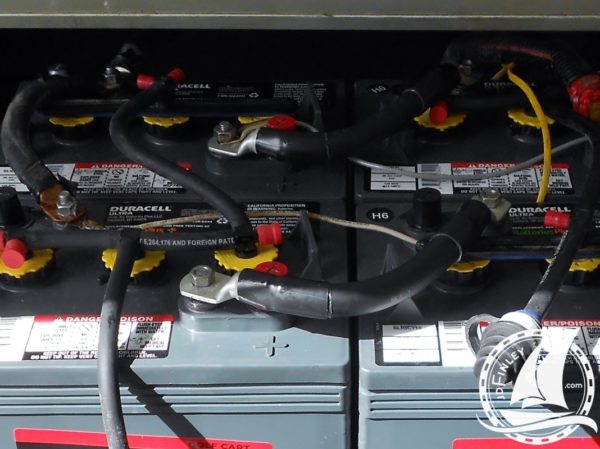 Perusing the information on the Internet is fairly interesting.  For example, the ideal charging voltage at 70 degrees is approximately 14.4 volts (13.5 volts float).  However; this increases when the temperature decreases such that at 30 degrees, the battery requires 15.2 volts (14.3 volts float).  Similarly, as the temperature increases, less voltage is required.  For example, at 100 degrees only about 13.8 volts is required (12.9 volts float).
That is a pretty significant difference due to temperature!
All the documentation found is consistent – applying the proper charge voltage improves battery performance and life, and minimizes battery maintenance.   Gotta love that!
(Visited 221 times, 1 visits today)