Windshield wipers are one of those odd things on a motorhome that don't seem all that special but sure cost a lot of money!
I guess it's the size. JBAM had 31″ wipers originally.  Pricing these at all the common online locations (cause they are not available locally) net's a price somewhere between forty and sixty dollars – EACH!
You know me – a cheapskate.
I found the longest wipers available at WalMart – 28″ – were $8.00 each.  I bought a set.  It's interesting that these things cost about 29 cents an inch up to 28″ but the next three inches cost something around $17 per inch.
Of course, they would not fit without a little effort. That's simply not the way saving money works – you have to sweat a little.
The mod was pretty simple.  Drill out the cross pin thing that was riveted in the new wiper blades and enlarge the hole to match the size of the bolt/pin that was already in use on the wiper arms. This photo shows the completed modification and the new wiper mounted on the arm.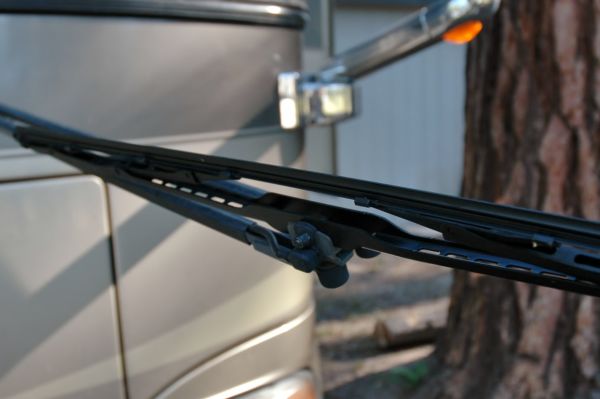 Complicated work – it took all of ten minutes to get both wipers mounted and that included opening the wiper blade packages and throwing away the trash.
If my math is correct, I was making something around $624/hour for my efforts ($120 for two "RV" wiper blades minus the $16 that I spent; it took ten minutes which is a sixth of an hour, so $104 times six = $624/hour).
Sweet.
Oh, they look just fine, you can't really tell the difference (3″).  It hasn't rained yet so I can't say how well they work.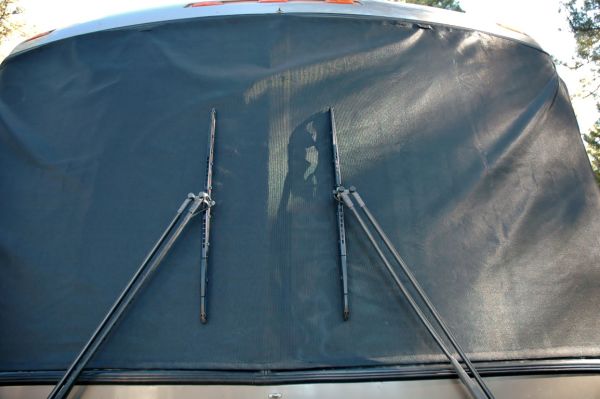 (Visited 361 times, 1 visits today)